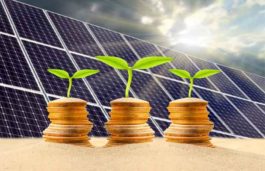 China Development Bank (CDB) has recently set up a special loan of "carbon peak and carbon neutrality" for the energy sector with a total volume of 500 billion yuan ( RMB equivalent, including foreign exchange), of which 100 billion yuan will be issued in 2021 to help build a clean, low-carbon, safe and efficient energy system.
The special loan will mainly be used to support hydropower in key rivers, coastal nuclear power, affordable wind power and photovoltaic power, offshore wind, etc. CDB will establish a green channel to provide differentiated credit policy support for relevant projects.
Energy sector is the key to achieving carbon peak and carbon neutrality. China Development Bank is committed to supporting the development of low-carbon clean energy and assisting the transformation and upgrading of the energy industry. On top of risk control, CDB will promote the establishment of a carbon financial system, and enhance its capacity in assisting the realization of the dual carbon goals.
Meanwhile, CDB will increase the issuance of green financial bonds, expand the coverage of green credit to guide capitals to invest in the national strategy.