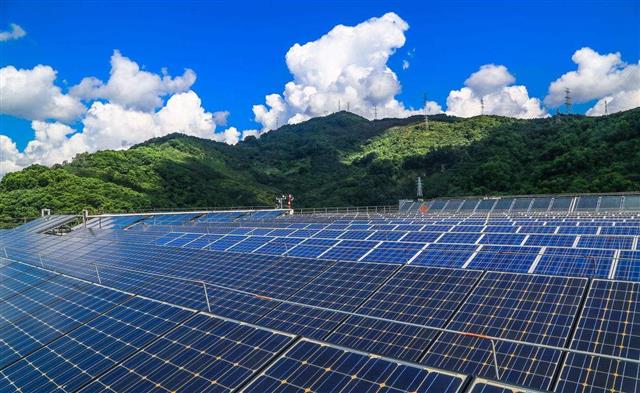 As China pledges to reach the peak of carbon emissions by 2030 and carbon neutrality by 2060, solar PV is expected to witness rapid growth during the 14th five-year plan period. It is estimated that in 2021, the installed capacity of solar PV in China will reach 50-55GW, about 40GW of which will be grid parity projects.
After years of development, the cost of construction and power generation in the solar PV industry has been reduced. Grid parity has become a consensus in the industry. Lower cost and higher efficiency have become the core driving forces of technology upgrading in each link of the industrial chain. From PERC, TOPCon, perovskite to HJT, high-power modules have become the trend of technological innovation.
As PERC has reached its maximum theoretical efficiency, the industry began to search for more efficient battery technologies, and HJT became one of the options.
The Efficiency of Commercial HJT Reached 25.18%
Generally, the efficiency of commercial HJT cells has exceeded 24%. Data shows, the efficiency of HJT cells from Tongwei Group has reached 25.18%, that from Jinneng Group is 24.73%, AKCOME is 24.59%, and Risen 24.55%.
Tongwei Group told Solarbe that the company's Chengdu HJT production line has been in stable operation for nearly two years. After continuous research and development, the highest conversion efficiency of Tongwei's HJT cell has reached 25.18%, using the PECVD equipment from leading manufacturer Ideal Energy Sunflower.
PECVD equipment made in China has gained a competitive edge. Ideal Energy Sunflower's PECVD equipment, for example, has been upgraded to the third generation, with 500MW productivity per year. A source told Solarbe that apart from PECVD equipment that is core to HJT cells, Ideal Energy Sunflower has also extended its production chain to include PVD equipment, automation, whole line integration, and turnkey service. The mass production efficiency is more than 24.5%. It now has ten clients from the HJT cell manufacturing industry, which represents the gradual maturity of HJT manufacturing equipment in China.
Prospect of HJT
Compared with other battery technologies, the core process of HJT includes only four steps: wafer cleaning, amorphous silicon layer deposition, TCO coating, and electrode preparation. The symmetrical structure of HJT cells ensures higher bifaciality, which is conducive to automatic production and mass production.
There is a high potential to increase HJT cell efficiency. The highest efficiency can reach more than 30% by superimposing perovskite technology. The low-temperature process and n-type cell mean thinner wafers can be made, bringing more possibilities for reducing costs.
Despite the simple process steps, the equipment to make HJT cells is more costly than PERC production lines. The key equipment PECVD, for example, accounts for 50%-60% of the total cost of the HJT production line before it could be domestically made. Therefore, the localization and performance improvement of PECVD has been considered as the key to reducing the cost of HJT.
With the joint efforts of the photovoltaic industry, the production of HJT equipment is becoming mature and localized. However, as a revolutionary technology, HJT still needs to tackle the problems of high cost and silver paste supply to become the mainstream technology. At the same time, PERC still has room for improvement. In the future, the solar PV industry may usher in a new business form in which PERC, HJT, TOPCon, IBC, perovskite, and other cell technologies coexist.
Factors Restricting the Development of HJT
Shen Wenzhong, director of the Solar Energy Research Institute of Shanghai Jiaotong University, believes that technology maturity, equipment cost, price of key auxiliary materials, and market acceptance are the three major challenges for HJT cells.
Stacked cell, the next generation HJT technology, can hit more than 30% of efficiency. The maximum theoretical efficiency of single-layer crystalline silicon is 29-30%. The efficiency of perovskite can now reach 25.2%, and its maximum theoretical efficiency is 31%, while the maximum theoretical efficiency of stacked cells can reach 43%.
Shen Wenzhong believes that thinner wafer is the trend. Now it can be 100μm thin. While the minimum thickness can be as thin as 50-80μm, the use of flexible technology can further reduce it to 30μm.