As the potential of PERC has almost exhausted, solar PV industry began to seek the next generation of more efficient cell technology for the sustainable development of the industry. An increasing number of enterprises have chosen HJT. According to the statistics from Solarbe Consulting, the planned production capacity of HJT among 20 Chinese enterprises has reached 52GW.
At present, the high-tech district of Taixing is pushing forward the continuous development of the industry by cultivating the high-efficiency HJT solar cell industrial chain. Taixing has not only brought in dozens of experts, such as Peng Dexiang, the general director of the national "863" high efficiency HJT solar cell project, and the team of Dr. Chen Jinyuan, but also attracted excellent HJT manufacturers, such as Ideal Energy Sunflower, AKCOME, S.C New Energy, etc.
On May 21, the second China Taixing "Sun Valley" HJT Project Promotion and International Forum was successfully held in Taixing, Jiangsu Province. The future of HJT was heatedly discussed to welcome the arrival of HJT's mass production era.
LV Runzhou, vice mayor of Taixing municipal government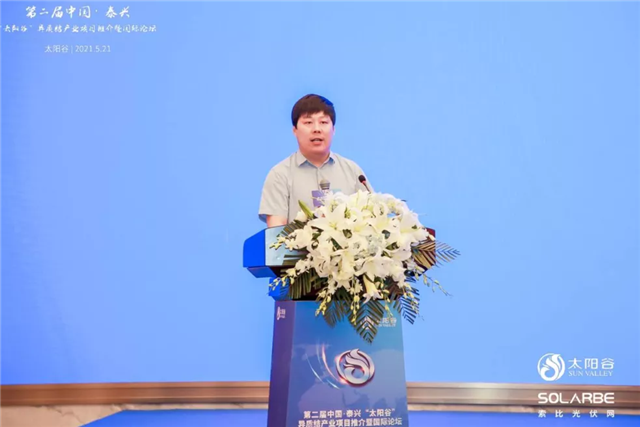 Under the background of carbon peaking and carbon neutralization, the global energy structure is quickly transforming to clean energy, and the HJT industry is becoming an important direction of global energy technology and industrial development. Taixing High-tech Zone, as a special innovation zone built by Taixing City, has been cultivating the HJT solar cell industrial chain and attracting high-end talents. After the first "Sun Valley" Forum, the development of HJT solar cell industry accelerated, and projects have been smoothly promoted.
Among them, the first phase of AKCOME Zhongzhi is estimated to produce 2GW high-efficiency HJT cells annually at full capacity; JF Solar has also started the plant installation; and the assembly line of Ideal Energy Sunflower, with a total investment of 500 million yuan has been completed. High voltage power station, sewage treatment plant, rooftop solar power station and neighborhood center have contributed to the cluster effect of the HJT industry.
In the future, Taixing will spare no effort to provide one-stop service, so that more technological achievements and high-quality projects of the HJT industry can take root and bloom in Taixing. As guests gather in Taixing, the city welcome more industry elites to come to the high-tech zone, build Sun Valley, and help the realization of China's 3060 goals.
Shi Dinghuan, former counsellor of the State Council and former principle director of China Renewable Energy Society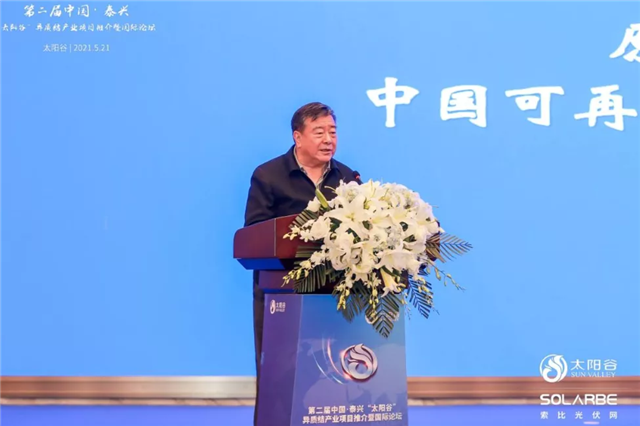 At present, the construction of a new power system with new energy at its core is required by the dual carbon goal. Solar PV has become the main force to transform China's energy structure. It is our fundamental task to promote the development of solar PV industry through scientific and technological innovation to realize the transformation.
Taixing High-tech Zone is constantly promoting the development of HJT technology in recent years. At present, with the efforts of colleagues and enterprises, HJT is becoming a leading technology. The gradual localization of HJT manufacturing equipment has become the key. In the future, the time will arrive when different kinds of advanced PV technologies compete with each other. Competition drives innovation and innovation drives industrial development. Through collective efforts, the photovoltaic industry will jointly build a new high-tech highland in China and continue to lead the global PV industry.
Jiang Jie, director of the Management Committee of Jiangsu Taixing high-tech Industrial Development Zone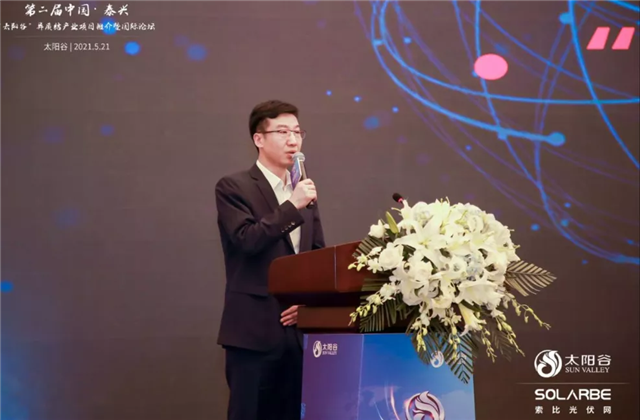 What should we do to promote the HJT industry?
First, getting to know the zone: Taixing is located along the lower reaches of the Yangtze River, at the intersection of the coastal economic belt and the Yangtze River economic belt, with a population of 1.2 million. It is an important part of the city's economic take-off and development.
Second, quality is key: Taixing High-tech Zone is the first industrial park in China to implement HJT projects and regard HJT as the core industry of the park. By building platforms, integrating resources and optimizing business environment, the zone has laid a foundation for the development of solar PV industry in the park.
Third, working together to build the zone: During the 14th Five Year Plan period, the HJT industry in Taixing High-tech Zone plans to reach 30 billion production capacity, gather 5000 to 7000 workers and attract 15 leading enterprises.
Project Signing Ceremony
At the meeting, another batch of photovoltaic production and construction projects were signed and settled in Taixing High-tech Zone.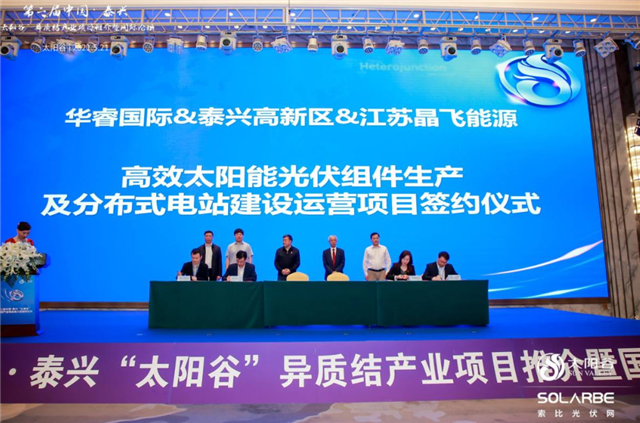 The Management Committee of Taixing High-tech Zone signed the high efficiency solar PV module production contract with JF Solar and the distributed power station construction and operation project contract with Sinowisdom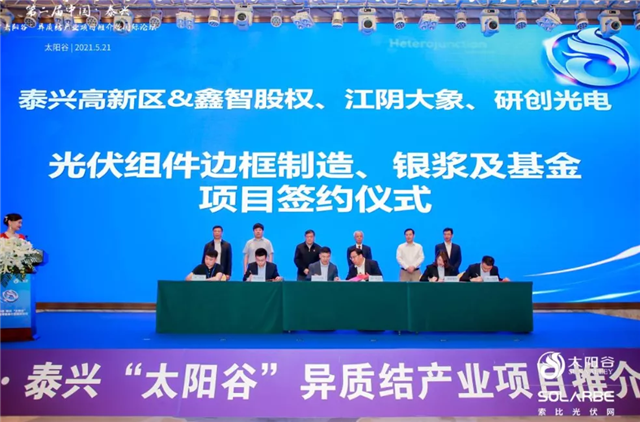 The Management Committee of Taixing High-tech Zone signed the contract of module frame manufacturing project with Jiangyin Daxiang, the contract of silver paste project with YCOT, and the contract of "government, bank, park, investor" project with Xinzhi equity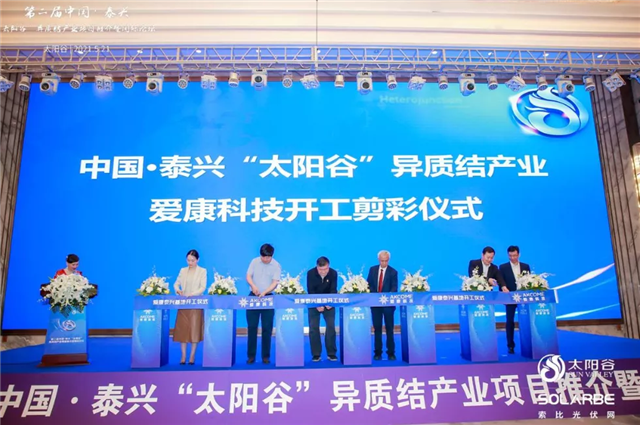 Taixing "Sun Valley" HJT enterprise — Jiangsu Akcome Technology Taixing base 6GW high-efficiency HJT solar cell module project ribbon cutting ceremony
It is reported that Akcome Taixing base plans to build a 6GW high efficiency HJT solar cell project, with a total investment of over 5 billion yuan, annual revenue of over 10 billion yuan and annual net profit of over 1.1 billion yuan. The first phase of the project is 2GW high efficiency HJT solar cells. The design is planned to complete mid-June 2021. The construction is expected to complete at the end of the same year. It is expected to reach full production capacity in June 2022.
Zhang Yuqing, Former Deputy Director of National Energy Administration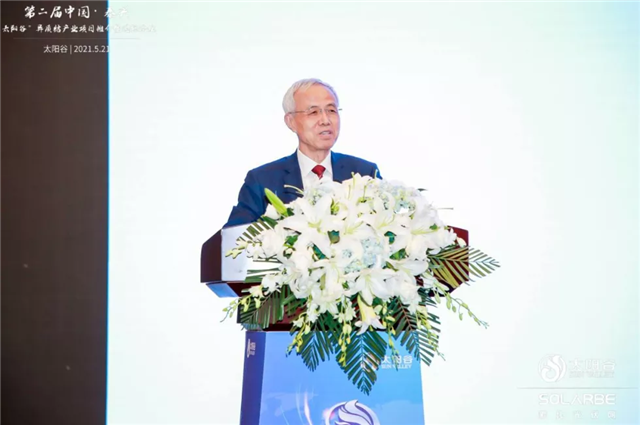 The 14th Five Year Plan will be a key period to decarbonize production and consumption in China. Production and consumption will gradually move towards intelligent and diversified supply. The following are suggestions for energy development in the 14th Five Year Plan period:
First, improve capacity storage and marketing system of the energy industry. To ensure the safe operation of the grid, we should increase the capacity of gas storage and regulation;
Second, we should give priority to energy conservation and strive to improve energy efficiency.
Third, we should accelerate the digital and intelligent development of the energy industry. The 14th Five Year Plan and the 2035 goal advocates the development of digital economy, digital industry and industrial digitization;
Fourth, we should promote the integrated development of gas power industry and renewable energy. The complementary development of natural gas distributed energy and renewable energy as well as the construction of natural gas peak shaving power stations should be pushed forward;
Fifth, we should accelerate the development of comprehensive energy service industry. Sixth, promote the development of distributed energy in the middle and eastern part of China; seventh, build a mutually beneficial ecological industrial chain of natural gas; eighth, deepen the reform of oil and gas power market system; ninth, high quality "Belt and Road" energy cooperation should be promoted. Efforts should be made to explore different modes of cooperation that are in line with different national conditions; tenth, strengthen industry supervision and break through with the core technology and equipment.
Finally, solar PV enterprises should continue to innovate, integrate the industry with study and research, make breakthroughs in key technologies and equipment, ensure the stability of energy provision in the industrial chain and supply chain, and become industrial leaders. This is an important measure for enterprises to reduce costs and increase efficiency.
Shen Honglie, Professor of Nanjing University of Aeronautics and Astronautics, Academician of Asia Pacific Academy of Materials Science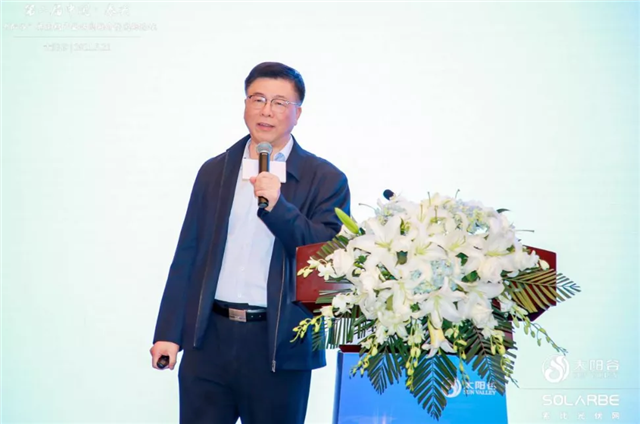 At present, the development of HJT cell has experienced four stages. The first is the free exploration period, mainly to solve the core problems of the technology. The second stage started in 2010 as the "863" project was launched. Enterprises began the R&D and small-scale production of HJT cells. This stage is mainly to solve the problem of whether products can be manufactured.
The third stage is when the industry is formed, which is mainly to solve the problem of mass production. We're now at the fourth stage, when made-in-China equipment has been gradually applied. At present, we should focus on improving product yield and stable production. In recent years, the mass production efficiency of HJT in China has exceeded 25%. In 2023, the cost of HJT will continue to drop and its efficiency will continue to increase. At the same time, the combination of perovskite and HJT will be the next direction we need to work on.
Duan Weiyuan, director of silicon HJT solar cell development, Jülich GmbH Photovoltaic Research Center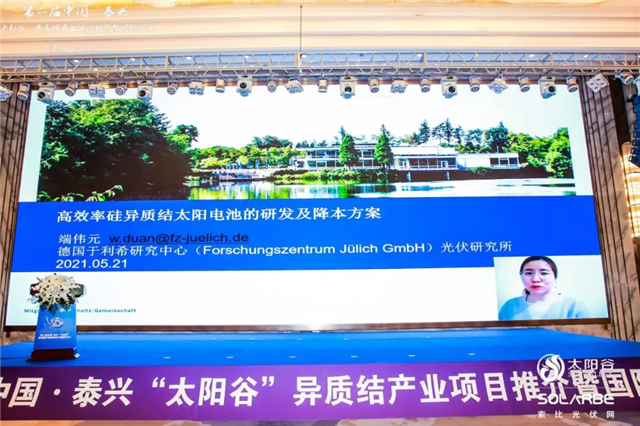 In 2018, Jülich officially entered the field of HJT. In view of its strong thin film research background, the conversion efficiency of Jülich's HJT cell has exceeded 24.5% in 2020.
Through the analysis of cost composition of HJT, the main components include conversion efficiency, equipment, silicon wafer and key auxiliary materials. The cost reduction of silver paste is a hard nut to crack in the industrialization of HJT cells. The consumption of low temperature silver paste is 240mg, nearly three times that of PERC cells. As one of the technical routes to reduce the cost of silver paste, screen printing technology can reduce the consumption of silver paste to a certain extent by increasing the number of main grids, while SWCT technology can further reduce the unit consumption of silver paste. The conductivity and module reliability of silver clad copper technology still need to be further verified.
In addition to screen printing, copper metallization technology has gradually gained attention. Although electroplating technology can reduce the consumption of silver, the whole process is extremely complex. Jülich proposed the selective seed layer technology in the electroplating process using the electrochemical method. This method does not need the exposure and development and yellow light room, which greatly simplifies the process. If the modules are combined with MBB, full copper interconnection can also be realized.
Luo Zhibin, R&D project director of Akcome Optronics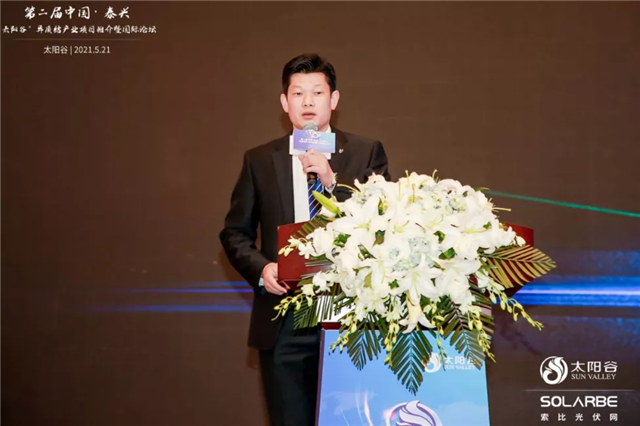 The Amazing Akcome Ipower 6.0
Akcome ipower 6.0 is equipped with 182mm silicon wafer, and comes in two series, all of which are 72-cell. One of them is Platinum Series MBB HJT module, with a maximum power of 570W; the other is the stacked HJT module, which has a maximum power of 600W, a conversion efficiency of more than 22%, and a maximum power temperature coefficient of -0.24%/℃. It is mainly used in utility-scale power stations and large distributed rooftop power stations.
With its elegant appearance, Akcome Ipower 6.0 is free from LID/PID effect. It has low degradation, high efficiency, stable and lasting power generation. It boasts high bifacial rate, with rear side power generation takes a larger proportion; it has good low light performance, longer effective power generation time, 11.07% higher than traditional cells. It is highly reliable and suitable for all kinds of supports. Compatible with large-scale ground power station and domestic rooftop power station, it brings higher power generation income and lower LCOE.
In addition to the new product launch, Akcome has reached strategic cooperation intention of gigawatt-level HJT module with several enterprises.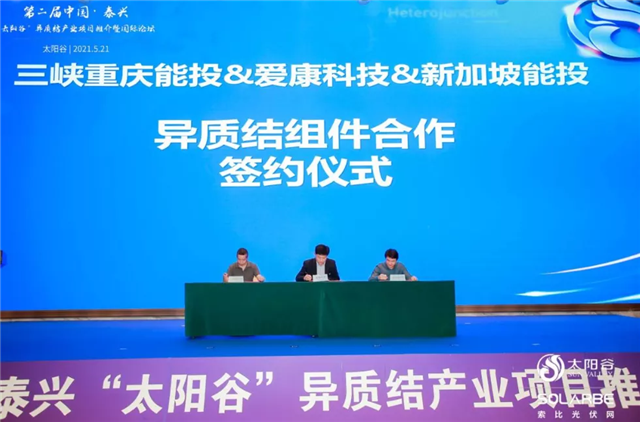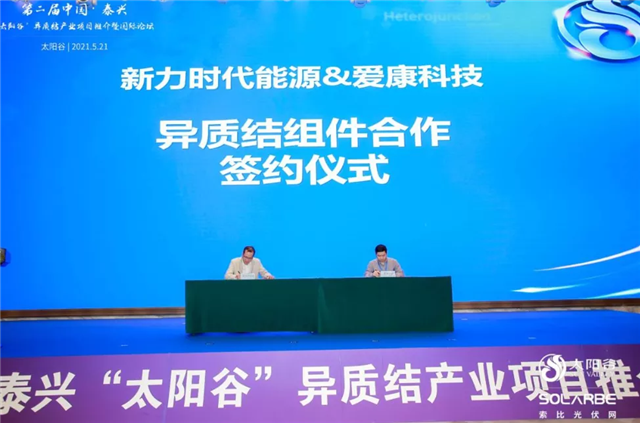 Akcome has reached strategic cooperation intention of gigawatt-level HJT modules with Three Gorges Chongqing Energy Investment, Singapore Energy International Energy Investment Co., Ltd. and Xinli Shidai Energy Technology Co., Ltd
In addition, Akcome also reached cooperation with Sanxia Dianneng, SPIC and other enterprises on gigawatt-level HJT power station project. In the future, Akcome will further deepen cooperation with all parties, integrate resources, give full play to advantages, and jointly launch more new products and new projects.
Geng Xi, Secretary of the board of directors of Ideal Energy Sunflower Vacuum Equipment (Taixing) Ltd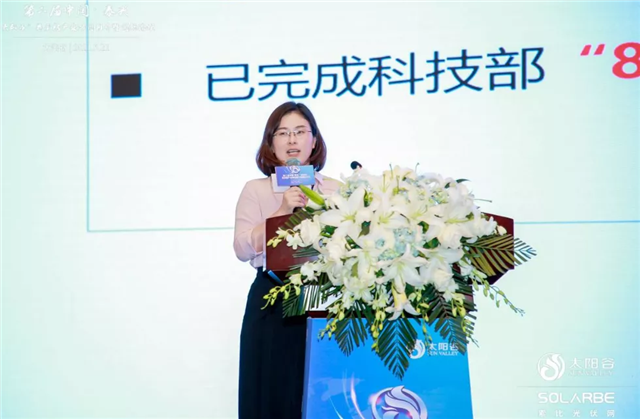 In terms of efficiency improvement and cost reduction of the whole HJT equipment line, the efficiency of HJT cell is worth expecting. At present, the mass production efficiency of Chengdu Zhongwei HJT has reached 25.18%, and there is still room for improvement.
Secondly, in terms of cost reduction of equipment, Ideal Energy will further reduce the cost of manufacturing by improving the capacity of a single machine. At the same time, the customer's future production line management and control COO, including plant operation, production of various gases and power consumption, will be further reduced. In the future, Ideal Energy will localize the whole manufacturing process of HJT cells. Through cost reduction and efficiency improvement of the whole production line, the investment of the whole HJT line will reach 350 million/GW in 2021.
Chen Mingfei, General manager of Changsha Enam Optoelectronic Material Co., Ltd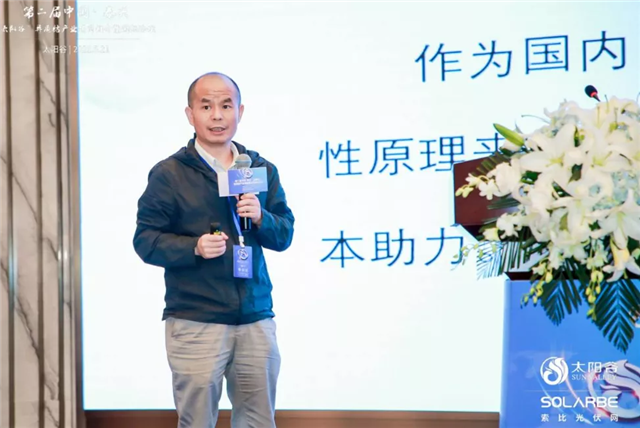 At present, the cost of HJT gigawatt-level equipment has decreased from 800 million to 1 billion yuan in 2019 to 500 million yuan in 2020, and is expected to decrease to about 400 million yuan this year. As the only qualified supplier of TCO target material for HJT PVD and RPD in China, Changsha Enam Optoelectronic Material optimizes TCO material composition and film structure design to improve conversion efficiency and reduce cost of HJT cells.
The cost reduction direction of TCO target material for HJT is sustainable and clean production, abandoning the production process that produces pollution, reducing the inputs of environmental protection equipment and environmental treatment costs, and avoiding the mandatory requirement of having to move to the chemical industry park for production. The second is the modular scale production system based on the underlying logic. The modular production system with strictly defined interface is conducive to the division of responsibilities and data access authority among production links, intelligent feedback control of production, reduction of human intervention, reduction of labor costs, and yield assurance system based on intelligent feedback system control, which can maximize production efficiency.
In addition, the stability of the target material in use and whether it is nodulated are the key indicators for cell manufacturers. Stable production is the key to achieve efficient production and reduce costs.
Hong Wei, project manager of Suzhou iSilver Materials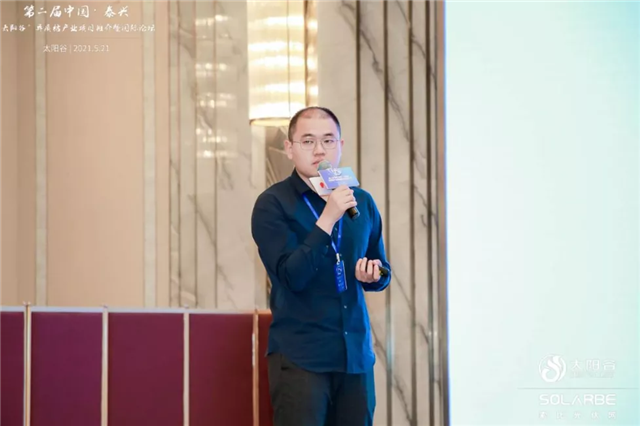 HJT cells have four requirements for low temperature paste:
First, resistivity: the resistivity is low after the silver paste is solidified at low temperature to form the electrode, and it needs to form a good contact with the TCO layer. The contact resistance is excellent, which can improve the FF;
Second, welding tension: after the silver paste solidifies at low temperature to form the electrode, the welding ability is good, and the welding tension should reach more than 1.5N/mm;
Third, continuous printing: the viscosity of silver paste is appropriate, keeping a good aspect ratio to meet the requirements of continuous printing; Later, fine line printing is needed to improve the printing speed;
Fourth, reliability: after the silver paste is solidified at low temperature to form the electrode, it has good weather resistance and meets the requirements of module reliability;
In the future, the printing speed of the iSilver Materials will reach 300mm/s in the third quarter of 2021 and 350mm/s before the first quarter of 2022. In terms of efficiency improvement, the overall efficiency is expected to increase by 0.1-0.2 before the end of this year. By the end of 2021, 30-35μm paste will be launched. We're beginning to use domestic silver powder and introducing optimized silver coated copper paste.
Zhou Xuewei, TÜV Rheinland Department Manager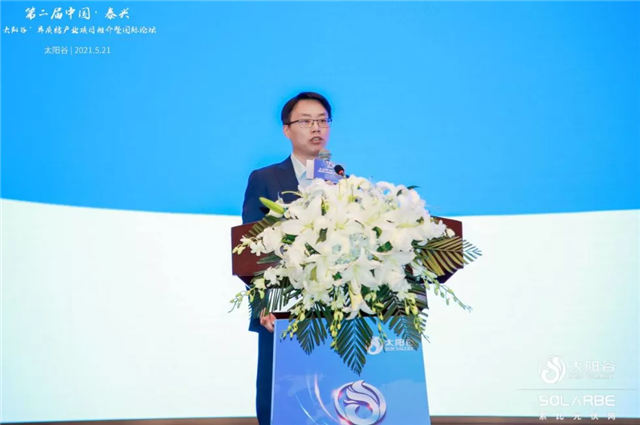 TÜV Rheinland is an independent third-party testing and certification organization, with about 35 years of experience in the PV industry, and has a number of top photovoltaic labs in the world, distributed in Shanghai, India, Germany and other places. They also have a professional team composed of more than 300 technical experts to study photovoltaic testing technology, develop and study new photovoltaic related standards. Our services cover solar cells, modules, systems, inverters, energy storage, etc.
TÜV Rheinland's annual "All Quality Matters" includes three aspects, the PAN File test, power generation simulation, and the simulation competition of power generation of HJT cells. Through this platform, we can test different HJT modules and compare the simulation of power generation.
It is worth mentioning that in the 2021 All Quality Matters award, Akcome's HJT module (SK6612HDGC-420) won the first prize and won the PV module power generation simulation award (HJT group).
Feng Shaojun, head of energy risk, Evertrust International Insurance Brokers Co., Ltd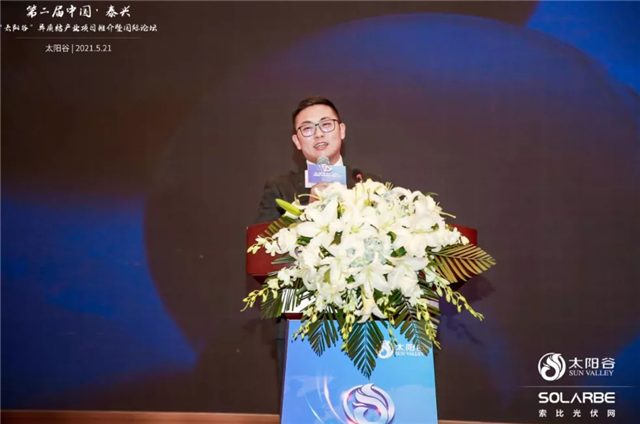 Established in 2005, Evertrust has been focusing on the traditional energy since its establishment. At present, it also has services in renewable energies such as solar and wind power. In essence, photovoltaic efficiency assurance insurance is the guarantee for the quality assurance of solar module products. After serving ten solar PV enterprises, Evertrust has the ability to provide complete risk management and insurance solutions for PV manufacturing and power station development enterprises. It has rich experience in photovoltaic insurance claims service, and has extensive cooperation with domestic and foreign photovoltaic insurance markets.
The company now provides complete risk management and insurance solutions. Traditional insurance products mainly include natural disasters, accidents, personnel responsibilities, including the responsibility risks of senior executives, accounts receivable, credit guarantee insurance, etc. In terms of special insurance products, we include solar module 25 year performance insurance, irradiation index insurance, contract performance guarantee, tort liability insurance, etc.
Li Heyan, founder of Solarbe Consulting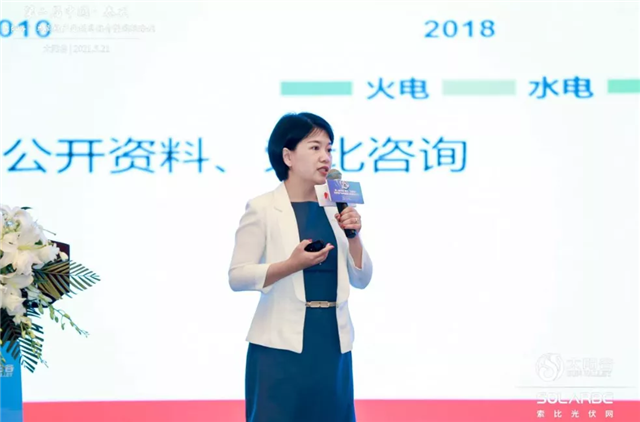 Great changes have taken place in China's power structure from 2010 to 2030. In order to achieve the goal of carbon neutrality, the proportion of renewable energy will gradually increase. Solarbe Consulting predicts that renewable energy will reach 30% by 2025 and 36% by 2030. In addition, the global PV installed capacity is expected to reach 2945GW in 2030, of which China's PV installed capacity will be 1000GW, a number far greater other countries.
In the history of China's PV industry, industrial transition is brought out by technology iteration. Take silicon as an example. In 2005, the price of silicon was $400/kg, but today it has dropped to ¥200/kg. This is a major impact of technology iteration on the PV industry. In this new era, the two most controversial cell technology routes in the industry are HJT and TOPCon.
By visiting HJT enterprises, Solarbe Consulting has studied HJT enterprises in the market. Currently, HJT production lines that have been put into operation are still mainly 100MW-level, and the conversion efficiency is generally about 24%. However, with the industry's enthusiasm for HJT rises, the era of gigawatt-level expansion of HJT is about to start.