Chinese solar, battery and electric vehicle giant BYD said the cumulative output of solar modules has surpassed 2 million in its Brazil-based factory.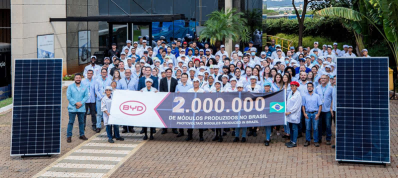 Li Tie, general manager of BYD Brazil, said: "BYD is one of the important players in the Brazilian solar energy market. We use innovation to solve social development problems and renewable energy products to promote sustainable development locally. The 2 million solar module milestone marks a new journey for BYD in the Brazilian distributed power generation market."
BYD also announced that it will start producing n-type TOPCon solar modules in December next year for Brazilian customers.
In April this year, BYD opened a new production line in Campinas, Sao Paulo, Brazil to manufacture solar modules. With upgraded equipment and manufacturing processes, the production line is designed to be compatible with all solar cell sizes on the market.
Adalberto Maluf, Director of Marketing and Sustainable Development of BYD in Brazil, said: "BYD has produced 2 million solar modules and set up new production lines and solar cell research centers, which shows that BYD excels in product quantity and quality and is in the leading position in Brazil's solar PV industry."
The factory was inaugurated in 2017 with an annual production capcity of 200 MW.