According to data from Global Energy Monitor (GEM), Latin America and the Caribbean have the largest solar power development pipeline outside Eastern Asia and North America. The region is constructing over four times the amount of solar capacity being built across Europe, and nearly seven times more than in India, the world's third-largest solar producer. This makes the bloc a key renewable hot spot to track over the coming decade.
Solarbe Global has invited experts in the local solar market to give a full picture of LATAM solar development yesterday.
Angel Cancino, the Research Analyst of S&P Global Commodity Insights opened the session by sharing some outlooks and drivers in Latin America solar photovoltaic markets.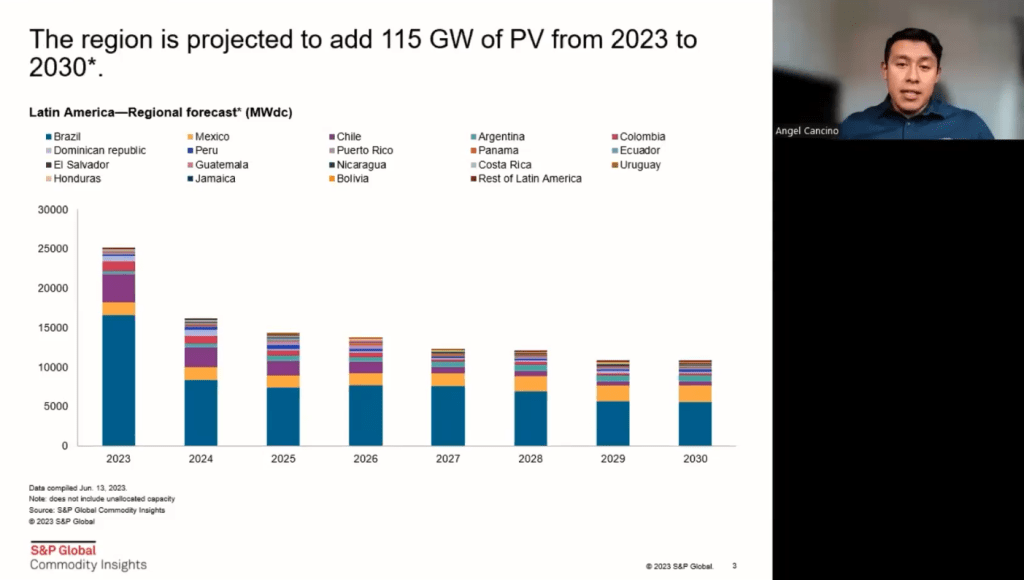 Cancino revealed a promising future for the installation in Latin American region, which is projected to add 115 GW of solar from 2023-2030, with 60% come from utility segment, and 23% come from small, medium and large commercial. The whole region is expected to add 26 GW of solar this year, while Cancino predicted 20 GW installation from utility side and 14 GW from commercial and residential altogether.
Brazil, the largest market in Latin America, may add 65 GW of solar in the next seven years, with 44% coming from utility scale and 56% from residential and commercial, said Cancino. Last year, the country added 14 GW of new capacity, most of them were from DG projects, benefited from the new regulation issued in February 2022. However, the law may charge grid related costs from users after its amendment. So the installation peak will appear in this year while the original regulation still works, and projects applied under this law need to be completed by the year. Commodity Insights also expected that utility-scale projects will cover about 28 GW of the installed capacity during 2023-2030.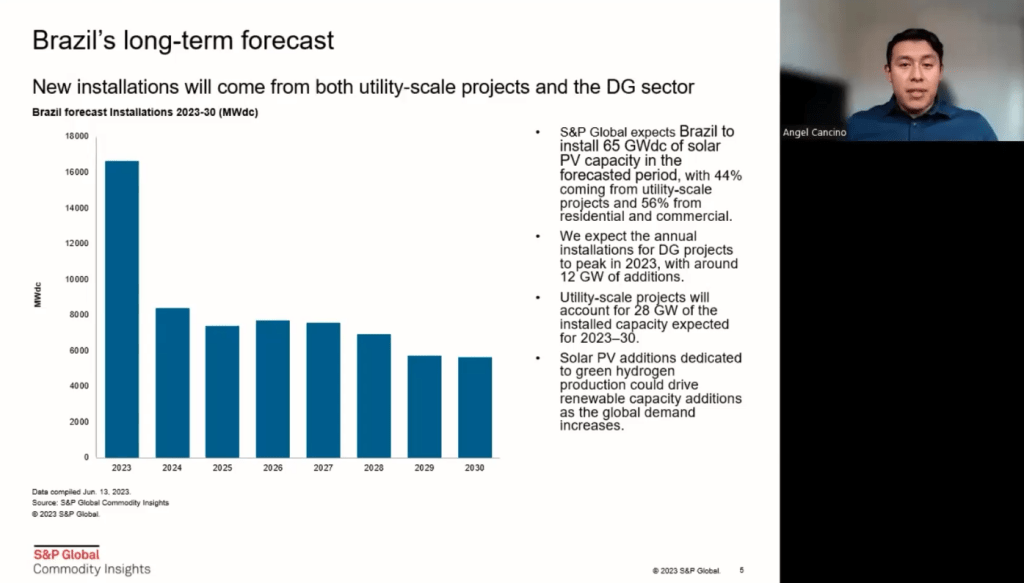 Chile will install 11.8 GW of solar during the period, with 84% coming from utility and 15% from residential and commercial, and the annual installation will slowly decrease after 2023. Argentina, which has been struggling to keep its renewable momentum but still witnessed too much delays in project completion, will also have 5 GW, of which 4.3 GW will be utility projects.
For pv support mechanisms and main drivers, Cancino presented a chart to illustrate regulations of main countries in Latin America region, with PPAs as the main driver.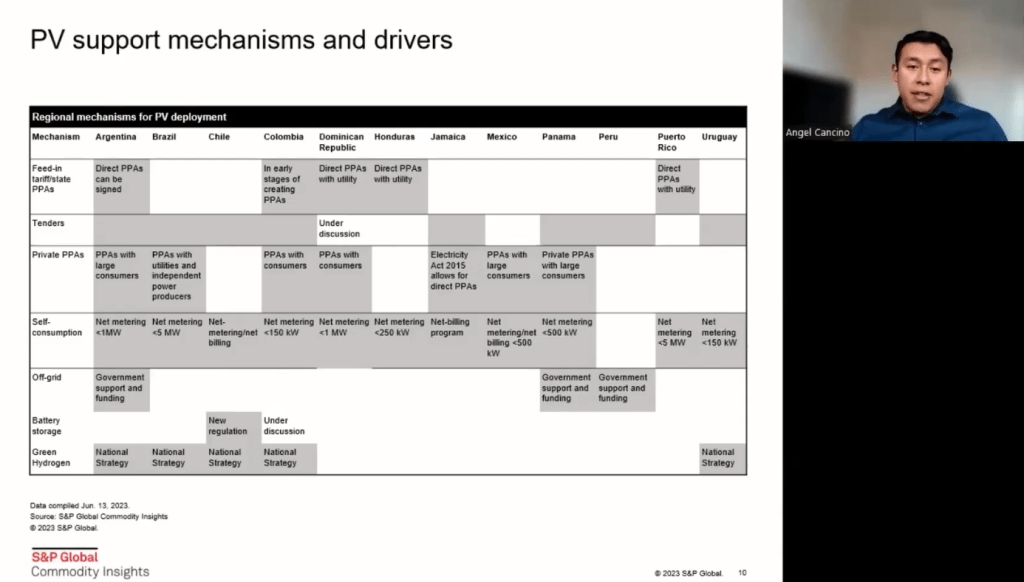 Gabriel Magdalon, LATAM Utility Sales Director of JA Solar, who has experience in energy resource assessment and solar photovoltaic project analysis, also gave an outlook of the local market from module supplier's perspective.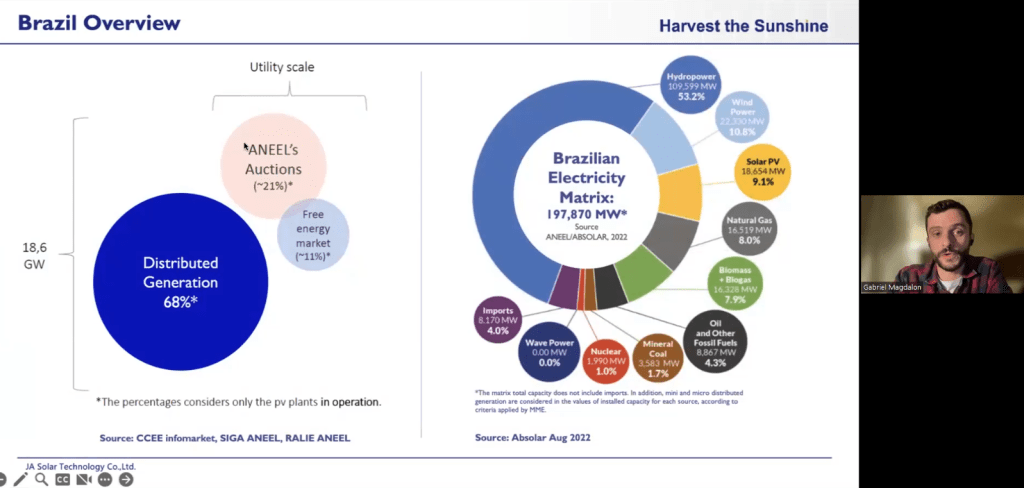 Brazil is the main focus of the region, since 2012, there were about 18.6 GW of solar were connected to the grid, 68% were DG, due to the legal framework and regulatory changes, and the rest were utility, including auctions (21%) and those from free energy market (11%), said Magdalon.
Chile's solar has experienced unprecedented growth in recent years. However, the country now has been struggling to adding more transmission line infrastructure, as well as storage and green hydrogen solution, to support the major decarbonization goals by 2030, which will be the biggest challenge in the Chilean market for all PVs.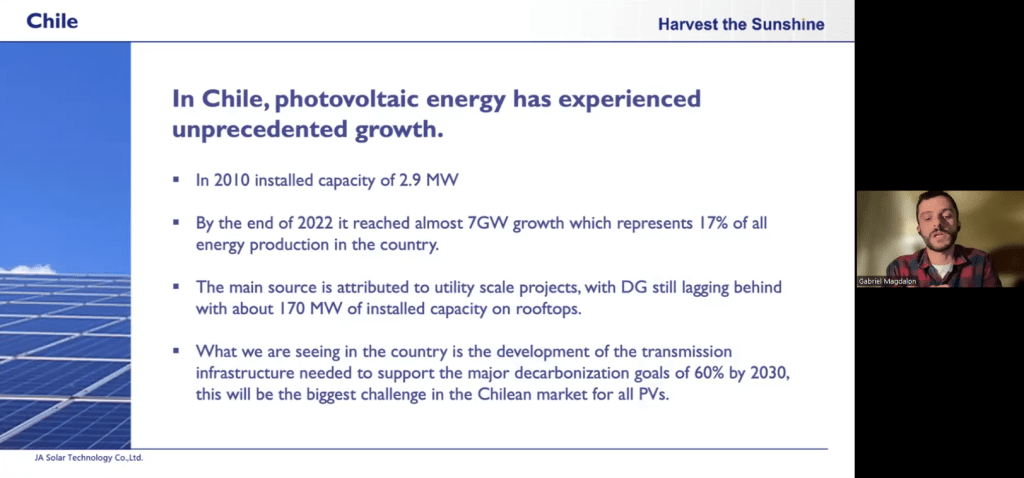 Columbia, which added 270 MW of solar in 2022, will usher in the period when most of the projects will come online in the following two years, and the transition towards clean energy in the country could reach a turning point this year, as solar energy companies lead the race to decarbonize the power grid, according to Magdalon.
Mexico, in contrast, saw clear decline in annual installation. Due to government policy and regulation changes, the country now has far behind to reach its energy goal and it would have to start installing over 2.5 GW per year from 2023-2030.
Humberto Bustamante, Group Technical Manager of Revolve Renewable Power, gave a specific picture of distributive generation and current schemes of solar installation in Mexico, while he also talked about some challenges in LATAM region.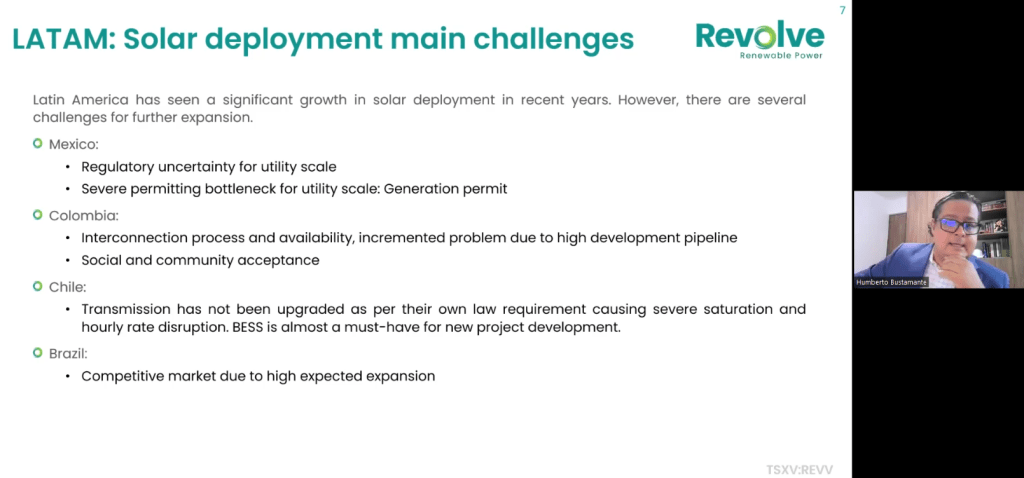 Since 2020, permitting for utility scale energy development in Mexico has been severely halted. From COVID delays, lack of clarity and consistency in requirements, to rejection of energy generation permit. New energy is highly needed in the country, but not allowed in utility scale. For DG, Mexican energy law allows DG systems up to 500kW to go through no permitting process, while isolated generation systems of less than 500kW can be installed if they are not interconnected with the grid nor between them. Generally, DG installation is expected to grow from 2.6 GW in 2022 to 11.4-16.8 GW in 2037.
According to Bustamante, there are three main schemes for acquiring a PV energy generation system in DG in Mexico, which are direct purchasing, leasing and power purchase agreement (PPA).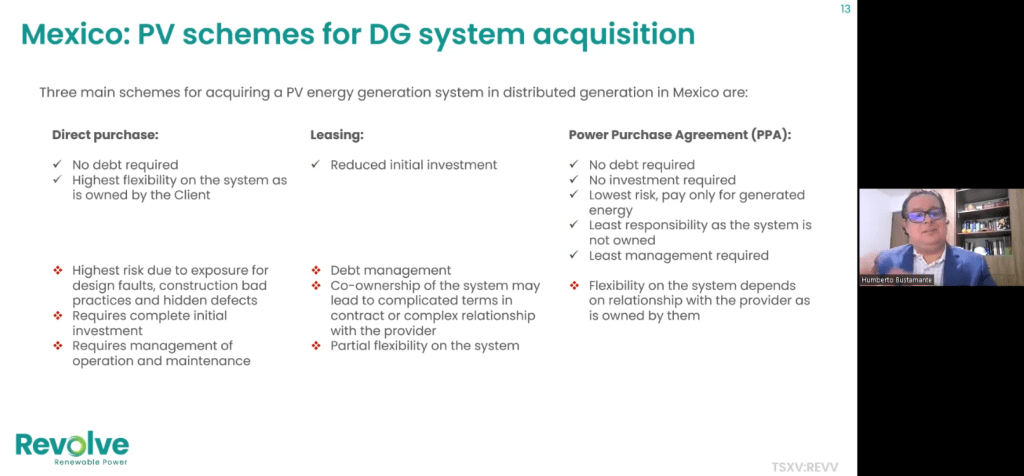 During the discussion, speakers also shared their insights further about local challenges and opportunities, solutions to grid connection problems, technology trends and joint work that can be done by all links of industry, watch the replay of the webinar here to find out more: https://www.solarbeglobal.com/speed-up-solar-installations-in-latin-america-2/