Companies recently have been revealing their annual reports and first quarter reports, showing an overall explosive growth in the global market. In 2022, most solar companies achieved rapid performance growth, with shipments increasing by over 50%. The shipment volume of first tier brand module suppliers was basically around 40 GW, totaling over 170 GW, accounting for over 65% of the global new addition.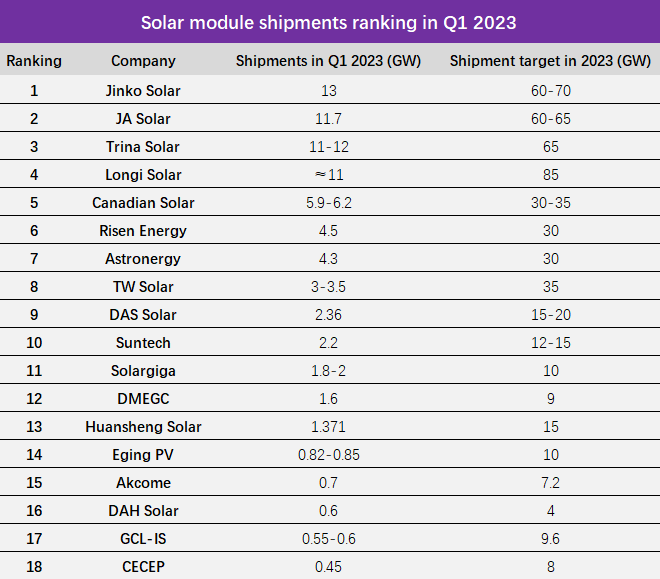 The market concentration ratio continues to improve according to the list. In the first quarter of 2023, the top four module brands continued to occupy the main market share, with a total shipment volume of over 45 GW, up over 50%.
For shipment, the total volume target of the top four module brands exceeded 270 GW, accounting for more than two-thirds of the global market, while that of the top 10 suppliers exceeds 420 GW.
In the first quarter, Jinko Solar returned to the top, which also shipped most of TOPCon modules. It is expected that by the end of 2023, its production capacity of silicon wafers, cells, and modules will reach 75 GW, 75 GW, and 90 GW respectively, with a target shipment volume of 60-70 GW of modules, according to Solarbe.
JA Solar also saw high growth rate during the period. Its n-type cell modules have met the conditions for large-scale production, and the current supply is relatively scarce, which will be alleviated to some extent in the second half of the year. By the end of 2023, its module production capacity will exceed 80 GW, and the capacity of silicon wafers and cells will be about 90% of the modules, with a target shipment volume of 60-65 GW.
After the launch of the 210R series products, Trina has a wider range of product models and can compete on different tracks simultaneously. The combination of 210 large-sized technology and n-type cell technology also gives it an advantage in improving module power and reducing BOS costs. Its module capacity will reach 95 GW by 2023, cell production capacity will reach 75 GW, with 65 GW of shipping target.
Longi, though with the highest target of 85 GW, didn't stands out in the top three. The company may charge forward in the next three quarters based on its advantages in PERC and HPBC. By the end of 2023, its silicon wafer, cell, and module capacity will reach 190 GW, 110 GW, and 130 GW respectively.
Among the new frontline brands, some may become strong competitors for the 5th place on this list. During the period, the threshold for the top 10 has been raised to 2 GW (compared to 1 GW in the first quarter of 2022). Companies with less than 1 GW shipment in Q1 and Q1 shipments accounting for less than 10% of the annual target may face certain pressures and need to strengthen market promotion efforts to provide more cost-effective products.
Meanwhile, the proportion of n-type has significantly increased in 2023. According to predictions, the shipment volume of n-type modules in 2023 may account for 20-25% of the total. The proportion of Jinko and DAS Solar reached 46% and 31% respectively, while that of Suntech and Akcome was also close to 20%.
Solarbe predicts that the proportion of n-type products shipped this year will exceed 30%, ranking as Astronergy (70%), Jinko (60%), DAH Solar (50%), DAS Solar (40%), Suntech (40%), Eging PV (30-50%), and Akcome (30-40%).