JinkoSolar's wafer and cell factory in Vietnam, the company's second project in Southeast Asia, was officially launched in Quang Ninh Province in northern Vietnam. It marks another milestone of the company's global deployment. The project aims to effectively improve JinkoSolar's capacity in serving global customers and business partners, while building a supply chain for the solar PV industry along the Belt and Road regions.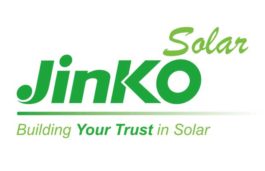 Last year, it was reported that JinkoSolar would build wafer and cell factories in Vietnam. On March 31 this year, local Vietnamese media reported that JinkoSolar had invested hundreds of millions of dollars in a gigawatt-level wafer and cell factory in Quang Ninh Province, northern Vietnam.
Despite resource and labor shortages, and the lack of construction equipment caused by the pandemic, the construction of the project progressed in schedule with the concerted efforts of JinkoSolar's team in Vietnam and local subcontractors.
The first phase of the project plans to invest 500 million US dollars on the production of silicon wafers and cells. The second phase will make flexible adjustments based on market trends. Following the factory in Malaysia, JinkoSolar chose Vietnam as its second stop because of its market potential, the quality and cost of labor, the stability of China-Vietnam relations, and Vietnam's power supply and electricity price. At the same time, it can shorten the order cycle and transportation distance, improve the efficiency of the supply chain, and enhance the competitiveness of the company.
Although it already has experience in production and operation in Malaysia, JinkoSolar still dare not slacken its efforts to ensure the operational quality of the Vietnamese project. It provides the following guarantees in terms of organizational structure, factory resources, and upstream suppliers, etc.
The first is to establish a market-oriented flexible organization to achieve unified management of markets, products and strategies.
The second is to uphold the principle of simplicity and efficiency. The organizational structure is divided into manufacturing, power operation and platform support. To facilitate manufacturing and service localization, employees from JinkoSolar's Chinese headquarter will account for 30% of the staff size in the initial stage. Department heads and above will be dispatched from China and stay in Vietnam for three years before returning to China.
The third is to mobilize factory resources from China. JinkoSolar plans to use the current mainstream silicon wafer and cell production technology and advanced production equipment in Vietnam.
Fourth, the company also plans to invite supporting factories to go overseas. The plan will further enhance its capability in integrating the global industrial chain, while promoting the globalization of upstream and downstream supporting enterprises.
In the future, JinkoSolar will continue to collaborate with strategic partners to jointly establish an industrial chain integrating local production, sales and service, which will help enhance JinkoSolar's local competitiveness and customer stickiness.