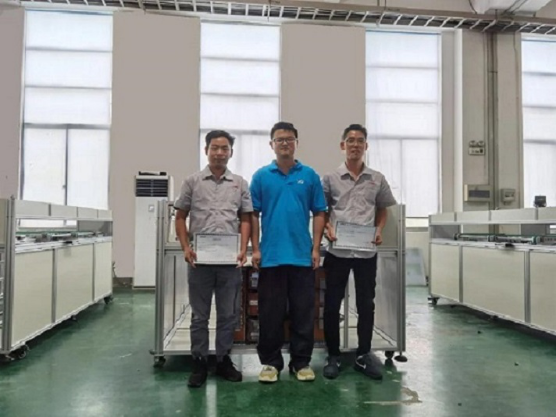 In order to better serve the end users, the technical engineers of Optech conducted a six-day technical training for the commissioning of production equipment to two Jiaxing LONGi equipment personnel at the intelligent manufacturing production plant in Suzhou, China from August 23 to 28, to prepare for the Jiaxing LONGi project.
Under the guidance of the engineers, the equipment personnel have basically mastered the operation essentials such as component adjustment, electric control parameter setting, equipment debugging, machine maintenance, etc., and they have successfully passed the training examination and obtained the completion certificate through study and practice.
Optech has been providing customers with perfect services through the whole process of the sales. Before sales, they formulates product configuration and equipment performance according to customer requirements until customer expectations are achieved. During sales, they will arrange professional customer service personnel to install and debug equipment at the workshop site. They will also assign professional and technical personnel to provide free basic equipment knowledge, practical operation, maintenance and troubleshooting training for customers after sales. Over the years, with excellent products and technology and sincere service, Optech has won the unanimous praise and trust of customers.