A research team in Jinan University has brought the conversion efficiency of large area organic-inorganic hybrid perovskite solar modules to 21.37%, breaking world record.
Led by Prof. Yaohua Mai, the team is comprised of associate researcher Shaohang Wu, PhD student Yanyan Gao and others. The record efficiency of 21.37% (with an aperture area 12.84 cm2) has been tested and accredited by the National PV Industry Measurement and Testing Center.
The power conversion efficiency after continuous operation at maximum power point condition has reached 20.56%, the highest for perovskite solar modules.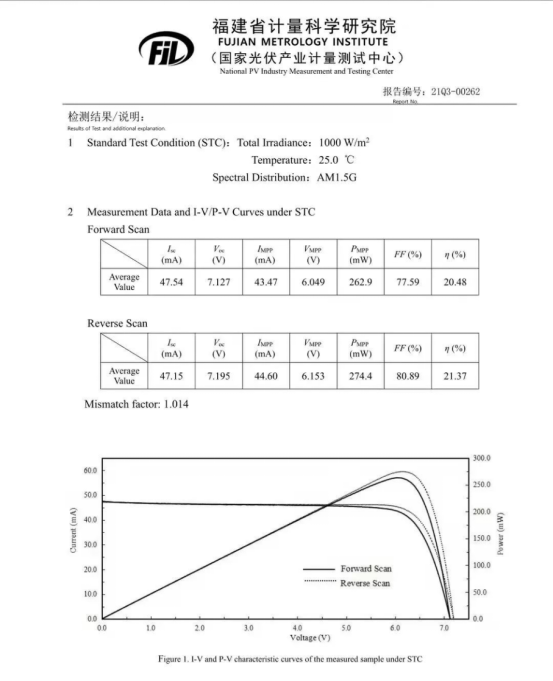 Perovskite is known as an excellent light absorber. As the Earth's most abundant type of mineral, perovskite is cheap and easy to produce. It has huge potential for efficiency improvement and a wide range of application scenarios.
However, the commercializaion of the perovskite technology is still faced with many challenges, including the synthesis of environmentally friendly and low toxic materials, the development of equipment for large-size manufacturing, and the improvement of mass production efficiency and yield.
The long-term stability of perovskite is still inferior to silicon. Testing and inspection processes also need to be standardized.
GCL Optoelectronics, the world's leading PV material manufacturer, is working to overcome these difficulties. The company has built the world's first 100 MW large-area perovskite PV module pilot production line, aiming to develop 1m x 2m modules with an efficiency of over 18% and a cost 70% lower than silicon. The modules are expected to reach a service life of over 25 years.
UtmoLight, a company aiming to become the world's No. 1 perovskite module producer by 2026, has also taken major efforts towards that goal.
This month, UtmoLight raised a total of 220 million yuan in Pre-A round financing and plans to invest more than five billion on 6 GW production capacity at the start of 2023. The company has also announced to build a 50 MW pilot production line in the third quarter of 2021 and start selling the first generation of perovskite PV modules in the second half of 2022.