The PV Performance Modeling Collaborative (PVPMC) was founded by Sandia National Laboratories in 2010 to improve the technical quality of PV performance modeling and analyses. The PVPMC has sponsored ten workshops and is excited to announce that the 2021 PVPMC Workshop will be in Jiangsu, China and will be co-sponsored by the Solar Energy Research Institute of Harbin Institute of Technology (HIT), Fraunhofer ISE, and Sandia National Laboratories.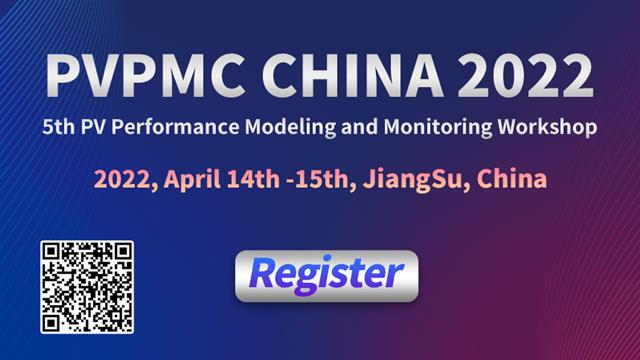 This workshop will focus on high-quality academic keynote reports from industry leaders and technical updates from researchers. The leading experts from domestic and abroad are invited to share results and data about PV performance including solar resource assessments, PV cell, module, and plant performance modeling, new concepts for improving PV performance, challenges and success stories of integration of PV into the grid and society.
The 15th PVPMC last year was a great success, and we believe that the gathering of well-known PV experts from China and abroad can help bring more innovative thinking to the PV industry globally.
The workshop will be structured along the following main subjects:
· Solar energy resource data in China and its uncertainty
· Application of photovoltaic modeling: modeling tool updates
· Field testing methods to optimize operations and maintenance (O&M)
· Modeling techniques for next generation modules (Smart module, bifacial, BIPV, etc.)
· Prediction and modeling of photovoltaic grid connected systems
· Pollution/soiling effects on PV and detection and modeling methods
· Integration of Photovoltaic generation and Energy storage
· New generation photovoltaic module and system technologies
· Multi-energy complement smart G-Model
The call for paper is open until March 15th.
The workshop will be held in Changzhou, Jiangsu, China from April 14 to April 15.
Click to register: http://guangfujiapingtai.mikecrm.com/wzy6rw1