On Tuesday, Risen Energy celebrated the production of its first commercial heterojunction cell on 210 mm thin wafers, and announced the start of the construction of its phase II project in Changzhou, Jiangsu province.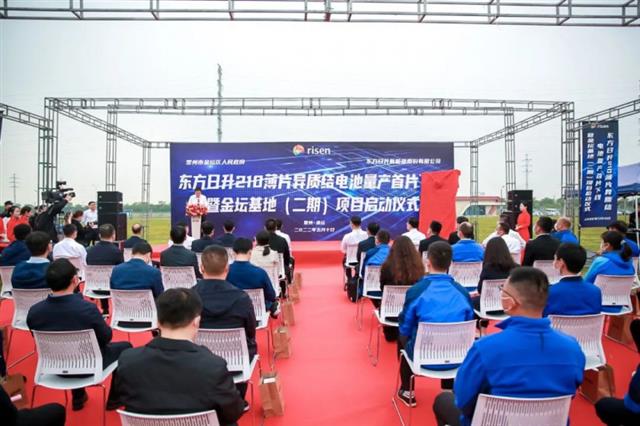 Risen Energy's pilot plant for HJT cells has an annual production capacity of about 500 MW. It took three months to complete through upgrading existing production lines and installing new equipment. The pilot plant will be fully dedicated to the provision of cells for the company's new HJT module series Hyper-ion.
Lin Haifeng, the CEO of Risen Energy, said the successful production of the thin HJT cell and the start of the phase II project will further improve the company's production capacity for low-carbon high-efficiency products. "It adds to the company's current advantages in technology, automatic level and cost control. The company will see greater breakthroughs in global market share," said Lin.
Hyper-ion cells are made with 120μm ultra thin half-cut wafers. Its cell efficiency is said to cross 25.5%. The 700 W power module reaches an efficiency of 22.53%.
Using highly efficient heterojunction cells, the module is believed to be able to reduce 10% LCOE compared to PERC modules. The Hyper-ion modules have also been tested to have a low carbon footprint of less than 400 kg eq CO2/kWc.
"Risen Energy's Hyper-ion products, with steel frame and thin cells, have higher low-carbon value," commented Lin.
Dr. Yang Bochuan, General Manager of Risen Energy's HJT division, said that the establishment of the dedicated production line manifests the popularity of Hyper-ion modules in the market. "N-type modules are predicted to take 10 to 20% market share next year. The shipment of Hyper-ion will see a major leap forward at the time," said Yang.
He added that, the company is setting up more factories to produce HJT modules to meet the growing demand.