As the global solar installation exceeded expectations, together with tight supply of silicon materials, the price of silicon materials kept soaring in the second quarter this year, and the situation may maintain considering major producers' factory maintenance and inventory of new comers.
Yesterday, the industry body China Nonferrous Metals Industry Association (CNIA) decided to suspend its updates on every Wednesday of polysilicon collection prices collected and released by nonferrous metal industry data processor Antaike to avoid over interpretation and misunderstanding of the polysilicon price, which may lead to a unstable operation and cause disturbance in the industry.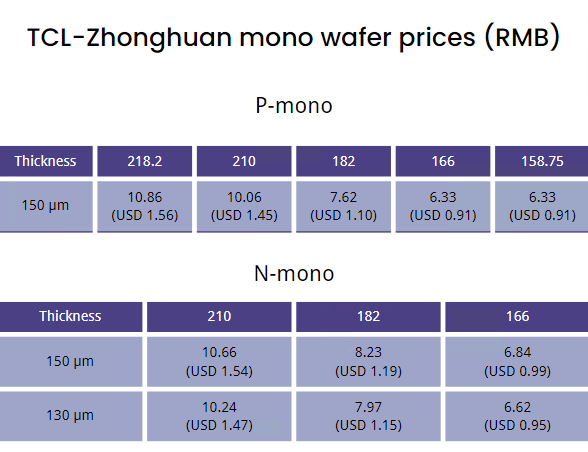 Same day, TCL-Zhonghuan raised all prices for p-type and n-type mono wafers, with the overall markup of all sizes by RMB 0.13-0.24 (USD 0.02-0.03) per piece compared with previous quotation. The other giant Longi updated their prices on July 26, increased by RMB 0.24-0.25 (USD 0.03-0.04) per piece, up 4%.
The two companies have made solid duopoly and they both cover over 50% of market share. Since 2020, leading enterprises have accelerated production expansion. Longi is expected to form 130 GW of mono wafer capacity in 2022, and TCL-Zhonghuan will have 140 GW. Vertical integrated Jinko Solar and JA Solar will also reach a scale of 50 GW and 43 GW respectively this year.
According to interim report of TCL-Zhonghuan this year, the gross profit margin was 17.7% (down 2.9%) in the first half of the year, and the number in the second quarter was 16.9% (down 3.9%), which was mainly caused by sharp rise in raw material costs.
Meanwhile, silicon material manufacturers have made huge profit. Xinjiang Daqo achieved a revenue of RMB 16.34 billion yuan in the first half of 2022, up 262.16%, and Tongwei Solar gained RMB 60.339 billion, up 127.16%.
The silicon material price may be loosened after this October gradually, and the supply will still be kept in a tight balance in the first half of next year. Continuous capacity releasing may ease the situation in 2023 and the comprehensive cost will become the main competitive factor.
Tongwei, TBEA, Daqo, and GCL with leading technology and management are expected to further increase their market share. In addition, in the next two years, the effective capacity of wafers will greatly exceed that of silicon materials, and the market strategies of participants will also have a great impact on the price of silicon materials.