Wafer giant TCL Zhonghuan has recently announced a significant reduction in the prices of its p-type and n-type wafers.
Compared to the prices listed on June 1, TCL Zhonghuan has lowered the prices of p-type wafers by nearly 30% and n-type wafers by approximately 25%.
The price reductions are particularly noteworthy when considering the specific wafer sizes.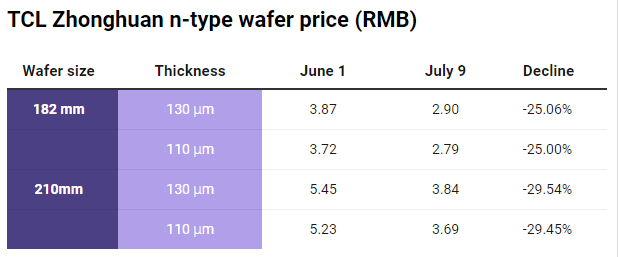 For n-type wafers, the decline in prices is as follows: for the 182mm wafer size with a thickness of 130 μm, the price has dropped from 3.87 yuan to 2.90 yuan, representing a decrease of 25.06%.
Similarly, the 110 μm thickness variant of the same wafer size has experienced a price reduction from 3.72 yuan to 2.79 yuan, reflecting a decline of 25.00%.
In the case of the 210mm wafers, the price decline for the 130 μm thickness variant is 29.54%, while the 110 μm thickness variant has seen a decrease of 29.45%.

For p-type wafers, the price declines are equally significant. The 218.2mm wafer size has experienced a price reduction from 5.78 yuan to 4.07 yuan, marking a decline of 29.58%.
The 210mm wafer size has seen its price drop from 5.35 yuan to 3.77 yuan, representing a decline of 29.53%. Lastly, the 182mm wafer size has witnessed a decrease in price from 3.80 yuan to 2.85 yuan, reflecting a decline of 25.00%.
It is worth noting that TCL Zhonghuan's prices for the 182mm wafer size are slightly higher than those listed on third-party platforms. However, the prices for the 210mm wafers are lower than the industry average, indicating that its larger-sized wafers still possess a price advantage.
Industry experts predict that in the near future, there may be slight fluctuations in the prices of wafers and cells, but a substantial increase in prices is unlikely.
On the other hand, module prices continue to experience reductions, allowing downstream customers to benefit from these cost savings. According to reports, some manufacturers have already secured supply contracts with China's state-owned enterprises at prices below 1.25 yuan per watt.