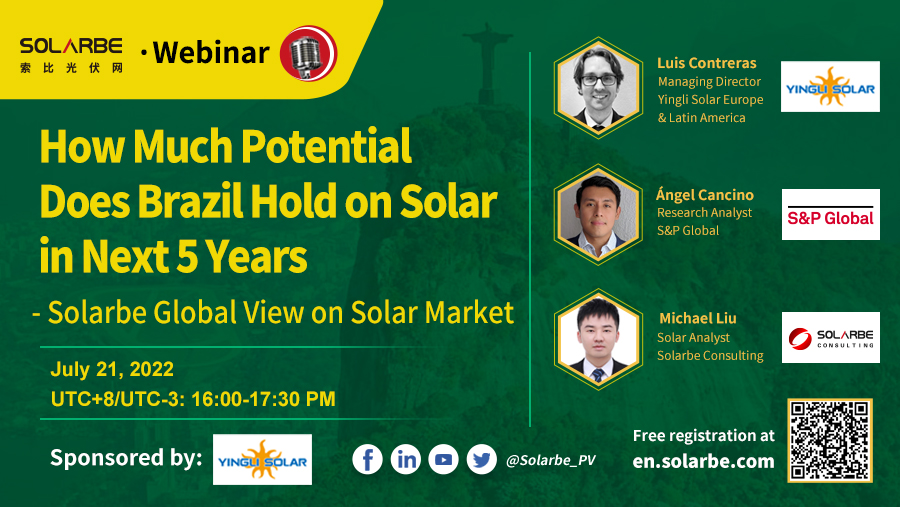 SolarPower Europe's "Global Market Outlook for Solar Power 2022-26" report, launched in Munich during the Intersolar Solar event, paints a sunny picture for solar throughout the world, especially Latin American market.
In 2021, Latin America's PV capacity additions increased by 44%, totaling 9.6 GW, with cumulative capacity of more than 30 GW. The region's solar market has grown more than 40 times since 2015. Projections suggest that by 2026, it could grow by up to 30.8 GW per year. In this incredible success story, one country emerges as a rising star: Brazil.
Latin America's solar leader is set to become one of the top five global markets in the next five years, reaching 54 GW total solar capacity by 2026, according to SolarPower Europe.
As of April 2022, Brazil had surpassed 15 GW of total installed solar, with over 5 GW added in 2021 alone. Distributed-generation systems account for 10 GW of installed capacity, and large-scale solar PV power plants for 5 GW. Distributed generation registered record growth in 2021, but that may well be surpassed in 2022.
However, the country still faces problems including high taxes, a lack of regulatory frameworks, and insufficient incentive schemes for end users.
In this session, we aim to gather industry figures from all links to shed a light on the efforts from their sides to speed up the installations in Brazil and probably provide more feasible solutions for future sustainable development, including:
Development outlook in the next few years
Major obstacles of installation in different scenarios
Possible measures and policy changes
Join us at 16:00-17:30 PM, July 21, 2022 (Beijing Time, GMT+8) to hear some practical sharing from these experts, they are:
Luis Contreras
Managing Director at Yingli Solar Europe & Latin America
Mr. Contreras is an industrial engineer, master in renewable energy and electricity market (EOI) and Executive MBA (IE). More than 16 years of professional career in the renewable energies field. Linked to Yingli Solar for the last 12 years, a long stage in which he has developed positions of Technical Director and Managing Director for Europe.
Ángel Cancino
Research Analyst at S&P Global, part of the Clean Energy Technology team
He has experience in energy resource assessment and solar photovoltaic project analysis. His current research focuses on the solar photovoltaic market in Latin America including the identification of projects, regulatory framework, and drivers of renewable growth in the region. He holds a bachelor's degree in Renewable Energy Engineering from the University of Science and Arts of Chiapas and a Master's degree in Sustainable Energy Systems, from the University of Edinburgh, in the United Kingdom.
Michael Liu
Solar Analyst at Solarbe Consulting
Mr. Liu has six years of commissioning experience of clean energy power equipment and five years of clean energy digital operation and management experience, and he's familiar with China's power system operation system. He also has abundant experience in secondary market buyer investment.