Access to energy is probably one of the most serious challenges faced by the Caribbean. Therefore, it is important for the region to promote the use of alternative sources of energy.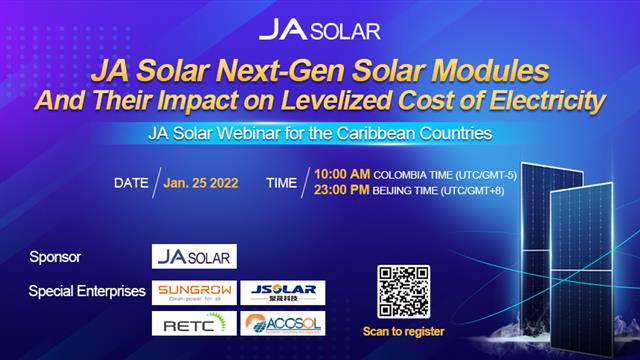 Close to the equator, the Caribbean holds substantial potential in solar, wind and geothermal energy, but remains highly dependent on fossil imports for its energy needs.
Martin Vogt, Managing Director at MPC Renewable Energies, believes that solar energy holds the most promise as a future power source in the Caribbean as region has 217 days of sunshine a year.
On January 25th, from 10:00 AM to 11:35 AM Colombia time (23:00 PM to 00:35 PM China Time), JA Solar, SUNGROW, JSOLAR, RETC and ACOSOL cordially invite you to join the Webinar for the Caribbean Countries to learn more about the impact next-gen solar modules have on levelized cost of electricity and engage in insightful Q&A with our panel of experts.
Register here (English): https://en.solarbe.com/home/article/info/catId/53/id/6.html
Register here (Spanish): https://en.solarbe.com/home/article/info/catId/53/id/7.html