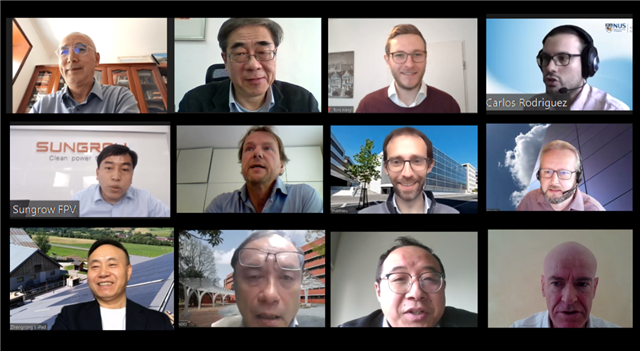 On April 8th, the second day of discussions on the First International Integrated-PV Application Workshop came to a successful end. After day one's engaging presentations on vehicle-integrated PV (VIPV) and Agro-PV, sessions on the second day focused on floating PV and building-integrated PV (BIPV) — another two forms of integrated-PV (IPV) applications.
Professor Shen Hui, the founder of the Institute for Solar Energy Systems at Sun Yat-sen University, opened the second day of the event. He said that, PV products can be diversified and photovoltaics belong to all mankind.
Floating PV (FPV)–the 3rd pillar of PV
Mr. Toni Weigl, Head of Product Management of Floating PV at BayWa r.e., opened the session by introducing FPV in general and competitive FPV solutions from BayWa r.e. By comparing with ground-mounted PV, Weigl said that, FPV is not a new technology, but rather "a new application of already proven components." The only technical difference is the foundation. Instead of using steel piles, FPV projects use durable high-density plastic floaters as the foundation.
He added that, FPV experienced a steep and exponential growth from 2016 to 2020, and has already surpassed 3GW in installation capacity. However, the world's potential for FPV is 400 GW if only 1% of the surface of man-made freshwater reservoirs is used, a report from the World Bank said.
According to BayWa r.e.'s criteria, a total of about 100 GWp of FPV projects can be installed on unused inland water bodies in Germany, Spain, France and Italy. This is why FPV is sometimes referred as the 3rd pillar of PV. To make full use of that potential we must focus on high quality FPV solutions with a long life-time to achieve competitive levelized cost of electricity (LCOE).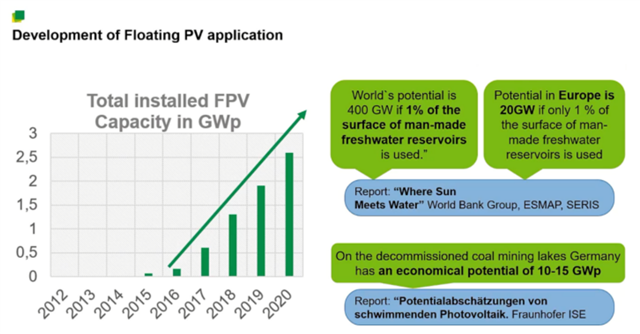 A screenshot of Toni Weigl's presentation
Dr. Weiwu Wu, Deputy General Manager at Sungrow FPV, cited Wood Mackenzie's report which says that the installed capacity of FPV will exceed 16 GW over the next 5 years, with China dominating the market and India and South Korea trailing close behind. Wu then introduced Sungrow FPV's design of the anchoring system, wave breaker, corrosion-resistant materials, etc. He also expressed Sungrow FPV's long-term vision to lead the development of offshore PV system design standards and promote gigawatt-level offshore PV applications.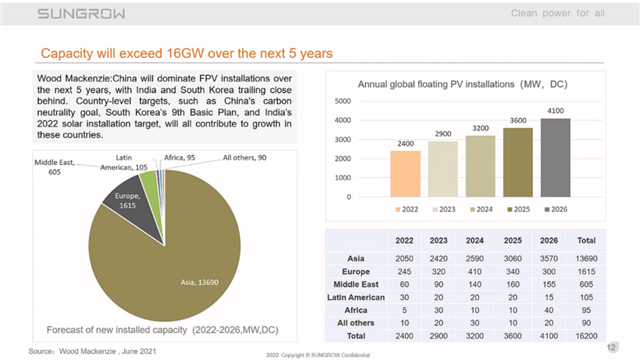 A screenshot of Dr. Weiwu Wu's presentation
Allard van Hoeken, Founder & CEO of Oceans of Energy, elaborated on the opportunities and challenges of near- and off-shore floating PV. He pointed out that offshore solar could offer a new option with great prospect. In the Netherlands, offshore solar has the potential to meet 50% of energy demand in the country, according to van Hoeken. Offshore solar and wind can be highly complementary as they can use the same space at sea and bring more continuous power throughout the year.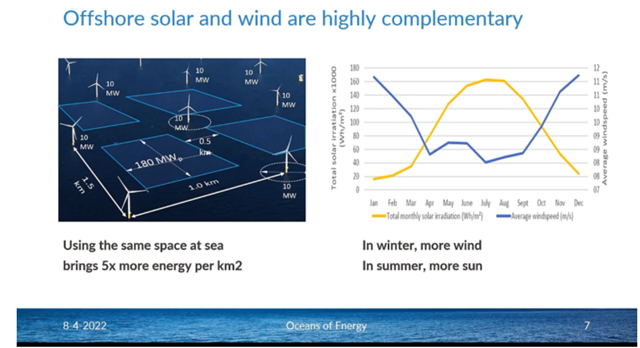 A screenshot of Allard van Hoeken's presentation
BIPV–An integral part of a building
Dr. Björn Rau, Head of Consulting Office for Building-integrated Photovoltaics (BAIP), at Helmholtz-Zentrum Berlin gave an overview of BIPV. In BIPV, the PV elements become an integral part of a building. Besides the production of electricity, they have additional functions within the building skin.
Rau cited a report from BIPVBOOST, which says that, in Germany, BIPV has the potential to cover up to 26% of total domestic electricity demand. At the moment, however, BIPV only takes up 2% of the market share. "There is a big gap between the potential and the current situation for BIPV," said Rau.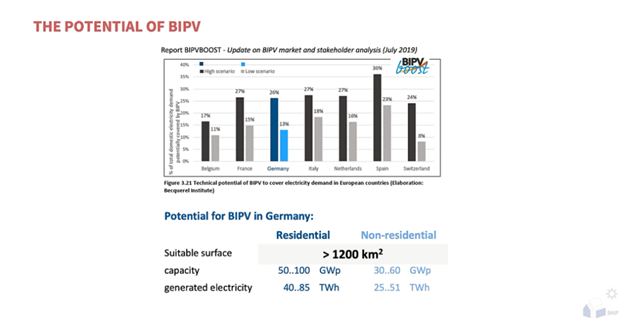 A screenshot of Dr. Björn Rau's presentation
He also pointed out that the PV industry needs to provide customized solutions, easy-to-plan and cost-effective standard elements, new facade elements, etc., as efficiency is not always the top priority for architects and building owners, but aesthetics and design.
Dr. Zhengrong Shi, CEO and Chairman of Sunman Solar, then introduced a disruptive ultralight module technology that can serve as a great solution for BIPV. Shi said that, after six years of research and development, Sunman has built the world's first gigawatt-level manufacturing base for lightweight PV modules and shipped 150 MW of such modules globally. Compared with conventional PV modules, Sunman's modules made with eArc technology are bendable, flexible, durable, light, and applicable in different scenarios.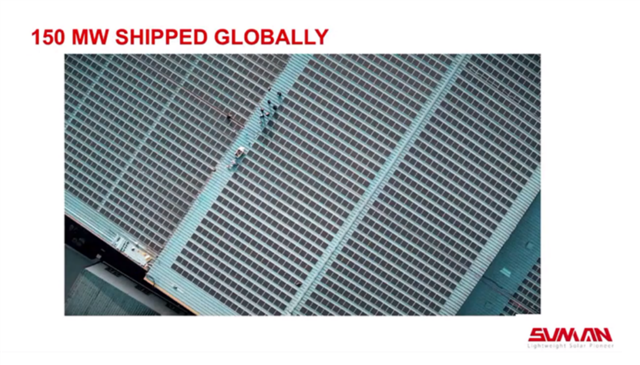 A screenshot of Dr. Zhengrong Shi's presentation
Michio Kondo, Supervisory Innovation Coordinator at the National Institute of Advanced Industrial Science and Technology in Japan, demonstrated new technological aspects and potential impacts of BIPV on society. Kondo drew attention to BPD failure which could cause safety risks, but this safety issue has not yet been standardized.
Mr. Marx, Aimin Xia, Co-Founder and Secretary General of China BIPV Alliance then focused on the cost-effectiveness and the potential of BIPV to reach 100-200 GW by 2025. Xia said that the price for BIPV system is 0.7$/W in 2022, which is in line with grid parity. He also pointed out that all parts of a building can be integrated with PV elements.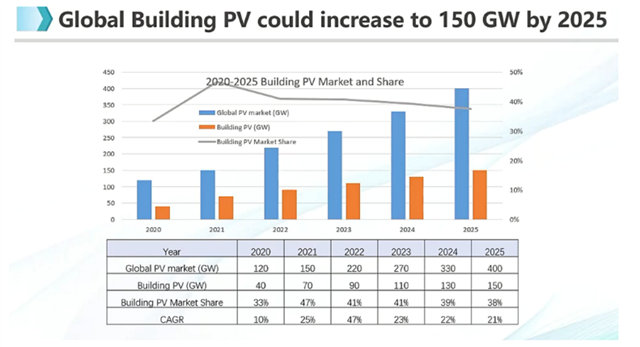 A screenshot of Michio Kondo's presentation
Eric Langenskiöld, Senior Engineer of BIPV at Basler&Hofmann, elaborated on façade design possibilities and practical experience in BIPV. For BIPV projects, PV panels have no limits with color prints or surface textures. They can be transparent as well. Langenskiöld also introduced the mounting methods of PV modules on architectures.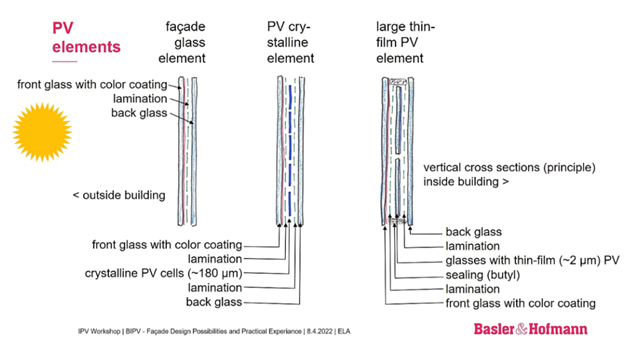 A screenshot of Eric Langenskiöld's presentation
Panel Session
Dr. Kaining Ding from Forschungszentrum Jülich, Dr. Rutger Schlatmann from Helmholtz-Zentrum Berlin, Ms. Laura Sartore from Ecoprogetti, and Lawrence Wu from Sunseap Group are the panelists for this session.
When asked about the challenges for IPV in the next years to come, Wu, the co-founder and CFO of Sunseap Group said that, "from a financial and commercial perspective, the opportunities (for IPV applications) are really bright." In Singapore, floating PV projects have already become mainstream with a lot of government tenders and project pipelines.
In a manufacturer's point of view, Sartore, the Executive Managing Director of Ecoprogetti, admitted that producing panels for IPV applications, like BIPV and Vehicle-integrated PV, can be challenging. As they are a niche market, the products are not standardized, which poses challenges for the mass production of these products. Although the demand is huge, "there is no massive industrialization of IPV," said Sartore.
"We should be able to standardize a little bit more, at least in sizes or in composition of material to reduce the customization cost and to make IPV affordable," she added.
In terms of regulations, Dr. Rutger Schlatmann, Director of PVcomB, HZB and Professor at HTW Berlin, said that, "the key point is that our politicians at EU level or at any level globally, but also down to the local level, should realize that they can steer the demand beyond simple LCOE". Although solar parks will probably be cheaper than BIPV, the societal gain of IPV applications can be enormous. "That you can steer by regulations and political measures," he added.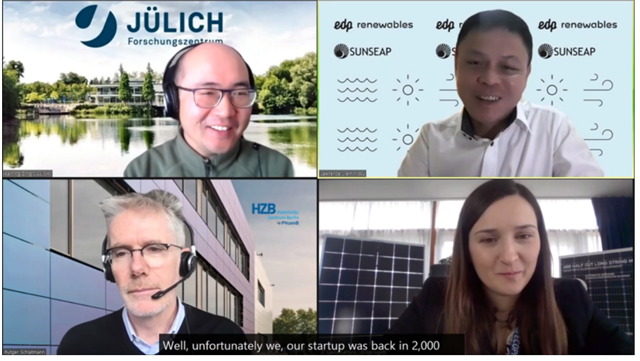 A screenshot of panel discussion
For people who are interested in entering or contributing to the IPV sector, Sartore believes that "it's important to have a strong interaction between different sectors." Besides, "there are a lot of challenges linked to how we secure the IPV on the surfaces. That's still an open question where we can do R&D, invent or propose solutions."
Schlatmann offered an idea for startups to offer BIPV package services by combining installation, technical know-how, regulatory know-how, etc.
The recycling of solar panels that have been used for 30-35 years can also become an opportunity for startups, Wu said. "It necessitates someone with technical experience to look at how they can recycle those panels in a cheap manner, and not just repurpose them or reuse them until the end of life."
In terms of the importance of IPV applications, the panelists agree that it is essential that we use as many artificial surfaces as possible to integrate PV elements.
Click to read: 1st International Integrated-PV Workshop closed with fruitful sharing- IPV Day 1