On May 8, JA Solar's 3.5 GW factory in Vietnam produced its first solar cell, signifying the completion of the closed loop production of wafer, cells and modules in JA Solar's production base in Vietnam.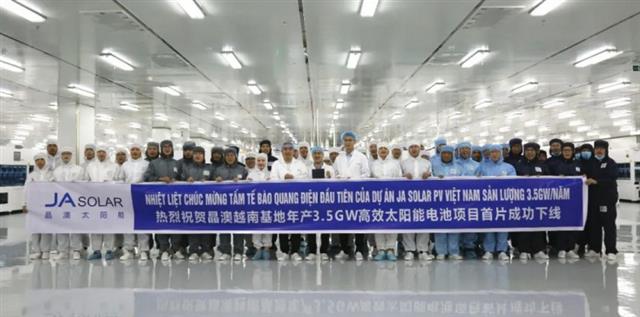 With RMB 1.47 billion total investment, the cell fab is dedicated to large size high-efficiency silicon solar cells.
The factory has a production capacity of 3.5 GW. Upon completion, it adds to JA Solar's existing capacity of 1.5 GW of silicon wafer and 3.5 GW of solar modules in Vietnam.
Despite disruptions in logistics caused by the pandemic, the construction of the factory still completed. It is believed to be able to further improve the operation efficiency of JA Solar's integrated production capacity, so that the company can better meet the needs for solar modules in North America and other markets.
In February, JA Solar announced its plan to expand its vertically integrated production capacity by an additional 14 GW. This will include a 2.5 GW wafer slicing factory in Vietnam.