JinkoSolar grabs top spot in global shipment ranking for the first quarter of 2022, moving up from the fourth position in 2021, according to Solarbe Consulting. Data shows that the company has shipped 8.031 GW of modules globally, slightly more than Trina Solar which occupies the second position.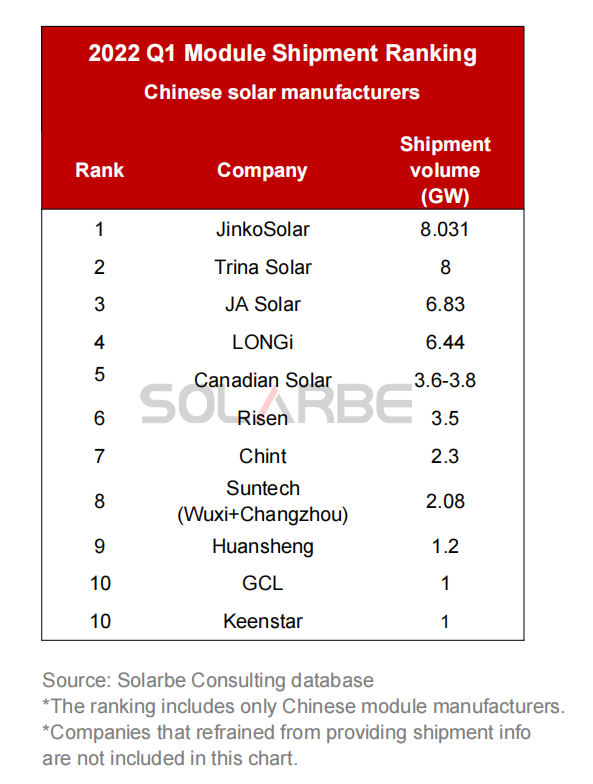 JinkoSolar's shipment volume in Q1 2022 already surpasses 36% of the total shipments in 2021, which saw the company ranking fourth with 22.23 GW of modules shipped globally, as per Solarbe Consulting's data.
Trina Solar and JA Solar remain at the second and the third positions in the ranking compared to 2021.
LONGi, on the other hand, has fallen from the first position in 2021 to the fourth place in the first quarter this year with 6.44 GW global module shipments. The company is followed by Canadian Solar, Risen Energy, Chint, Suntech, Huansheng, which had similar rankings in 2021.
GCL and Keenstar, new faces to the ranking, tied for the tenth place with one gigawatt shipment volume each.
However, despite the remarkable shipment volumes in the first quarter, the numbers are likely to see a decline in the second quarter due to the supply chain disruptions caused by the COVID outbreak in the eastern part of China.
Aside from publishing the shipment ranking for Q1 2022, Solarbe Consulting has also adjusted Chinese module manufacturer's shipment ranking for 2021 based on the announcements of the listed companies and survey results.