In 2023, the global newly installed capacity (AC-end) may reach 280-330 GW, including 95-120 GW of domestic installation, said Wang Qing, Deputy Director of the Industry Development Department of the China Photovoltaic Industry Association (CPIA) at the 10th Guangdong Photovoltaic Forum held by Sun Yat-sen University and industry media Solarbe yesterday.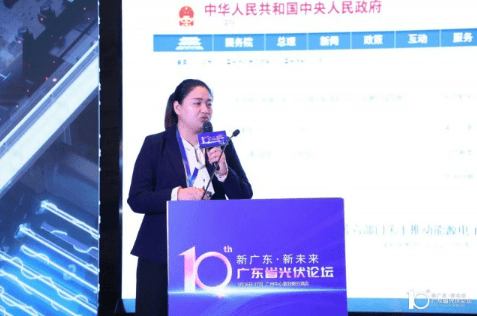 In January 2023, six departments including the Ministry of Industry and Information Technology issued the Guiding Opinions on Promoting the Development of the Energy Electronics Industry. The policy involves fields such as solar, storage and terminal information, as well as chips, software, operating systems, and other key information products oriented towards the development of new energy, which will benefit the solar industry. "The development of the solar industry has driven some key information technologies and products, which has also become the future development direction," said Wang.
In 2022, China's solar industry developed rapidly. According to the data from the National Energy Administration, the newly installed capacity of renewable energy exceeded 1.2 billion kilowatts, 47.3% of the total in the country. China's wind and solar power generation exceeded one trillion kilowatt hours, reaching 1.19 trillion kilowatt hours, up 21% year-on-year, accounting for 13.8% of the total social electricity consumption, up 2%.
Among the installation, there were 36.3 GW of centralized solar power station, up 41.8%; 51.1 GW of distributed, up 74.5%, which increased significantly, up over 70% year-on-year. Specifically, Provinces including Henan, Shandong, Zhejiang, Hebei, Jiangsu, and Guangdong rank among the top.
For import and export, the total export volume of silicon wafers, cells, and modules has exceeded USD 50 billion, and the export amount and volume of modules have set a record high. Countries in Europe dominates the market, while Oceania and the Americas also occupy an important share. In 2022, the European market grew by more than 100% year-on-year, 46% of total exports, and its proportion continued to increase.
Notably, many countries and regions such as the United States, the European Union, and India are vigorously promoting localized subsidies, including direct subsidies for power stations, preferential policies for local products, and encouraging the use of local products. The scope of subsidies covers almost the entire solar industry chain.
In addition, some countries have been restricting the export through tariffs, anti-dumping, countervailing investigations, and even political means, which severely impact the entire solar industry chain, according to Wang.
"The domestic solar industry is thriving,. However, we should give extra attention to disordered competition, overcapacity, and other issues," said Wang.