Nextracker and Atkore, a global provider of electrical, safety and infrastructure solutions, announced a new manufacturing line dedicated to producing steel tracker components for use in utility-scale solar power plants. Atkore has expanded and reconfigured its Phoenix, Arizona facility with new capacity dedicated to Nextracker products.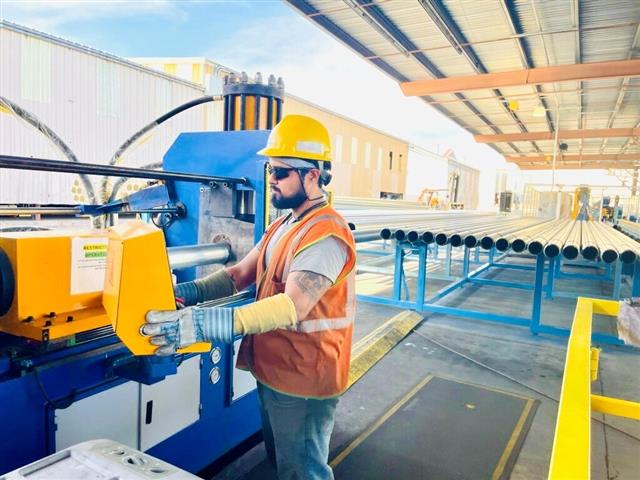 Steel line worker at Atkore's new Nextracker-dedicated production line. Photo: Nextracker
Initial production from the expanded facility will support Arizona Public Service Co.'s (APS)150 MW Agave solar project.
This development follows Nextracker's April announcement with JM Steel opening a steel fabrication facility in Sinton, Texas, and demonstrates Nextracker's commitment to building a more resilient supply chain to support the growing solar power market in U.S. with domestic steel raw material and fabrication.
"Building out our manufacturing capacity with partners across the U.S. allows us to protect customers from cost volatility, steel supply risk and delays in logistics," said Dan Shugar, Founder and CEO of Nextracker.
"Atkore's new production line is dedicated to Nextracker and will help them quickly deploy their cutting-edge solar technology across the Southern and Southwestern U.S.," said Bill Waltz, President and CEO of Atkore.
Through the partnership, Nextracker has a dedicated supply of critical materials in the strategic solar market of the Southwestern U.S. and is well-positioned to support to key customers such as APS.