Chinese solar cell maker Tongwei Solar once again secured the leading position on global cell shipment, according to the latest cell shipment ranking of 2021 released by industry analysis body PV InfoLink. The company has been retaining the title for six consecutive years.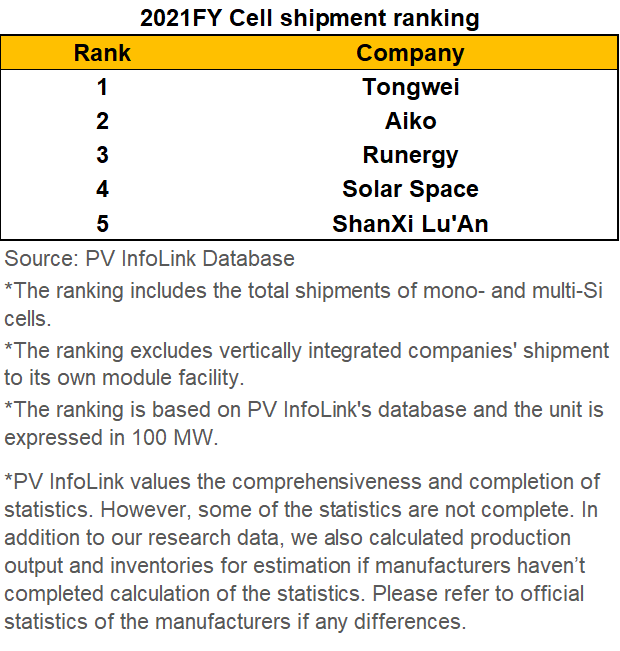 Source: PV InfoLink
According to the ranking, Aiko Solar claimed the runner-up of the list, followed by Runergy, Solar Space, and Lu'an Solar. The ranking stayed the same as in the preceding year.
"Having been caught between wafer and module sectors, cell manufacturers, with surplus PERC cell production capacity, only managed to post slim profits in 2021 amid upstream price hikes. With new in-house cell production lines successively commissioned in the second half of 2021, vertically integrated companies became increasingly self-sufficient, denting market share of professional cell manufacturers, of which growths started to lose momentum. Data compiled by InfoLink show shipments of the top 5 largest cell makers increased by 81% in 2020, but shrank to 36% in 2021, bearing out pressures professional cell makers received from the actively expanding vertically integrated companies," said InfoLink.
"In face of gloomy profits, the cell sector not only trimmed down utilization rates, but rescheduled capacity expansion projects, postponing capacities added during the second and third quarter to come online in the year's end. In the first half of 2021, production capacities that are old or dedicated to G1 or smaller sizes gradually phased out."
"With in-house cell production capacity, vertically integrated companies strangled profit growth of the cell sector, making it increasingly difficult for the latter to survive. Against this backdrop, and in fear of only 60-70% of utilization rates in both high and low seasons, some professional cell makers turn to develop high-end products for differentiation, whilst more of them reach out to other sectors across the supply chain or form alignments."