On February 15, the world's first ground-mounted solar PV station with Microquanta's perovskite modules began construction in Qujiang, a district in China's costal province Zhejiang.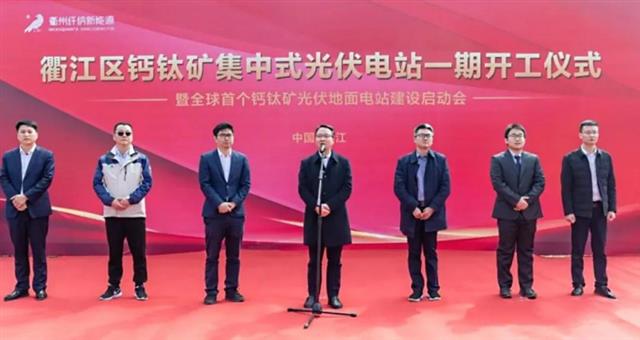 The commencement ceremony of the perovskite ground-mounted project in Qujiang district
The project covers an area of about 166,666 m2, with an installed capacity of 12 MW and a total investment of 60 million yuan.
Once the project is completed, it will be the world's first ground-mounted solar PV station with perovskite modules. The commencement of the project marks the maturity of the much anticipated next-gen perovskite technology.
In November last year, Microquanta reported a new world record efficiency of 21.4% for the stabilized efficiency of perovskite mini-module. And only a month later, the company set another record for its four-terminal perovskite-Si tandem module, which reaches a conversion efficiency of 26.63%.
Perovskite is believed to have excellent optical and electrical properties, and the cost of raw materials is only about 5% of that of silicon-based products. It is believed to have huge potential for large-scale applications.
Yao Jizhong, chairman of Microquanta New Energy, said on the project commencement ceremony that Microquanta has built the world's first perovskite facility with 100 MW production capacity.
He believed that the ground-mounted perovskite solar farm will become a milestone for the solar PV industry.