Zonergy Corporation, a leading provider of renewable energy storage solutions, made its debut at the Solartech Indonesia 2023 exhibition held at the Jakarta Convention and Exhibition Center. Jun Guo, executive director and president of the company, led the delegation as the team leader. The exhibition showcased a wide range of PV storage products with core competitiveness, attracting the attention of many exhibitors.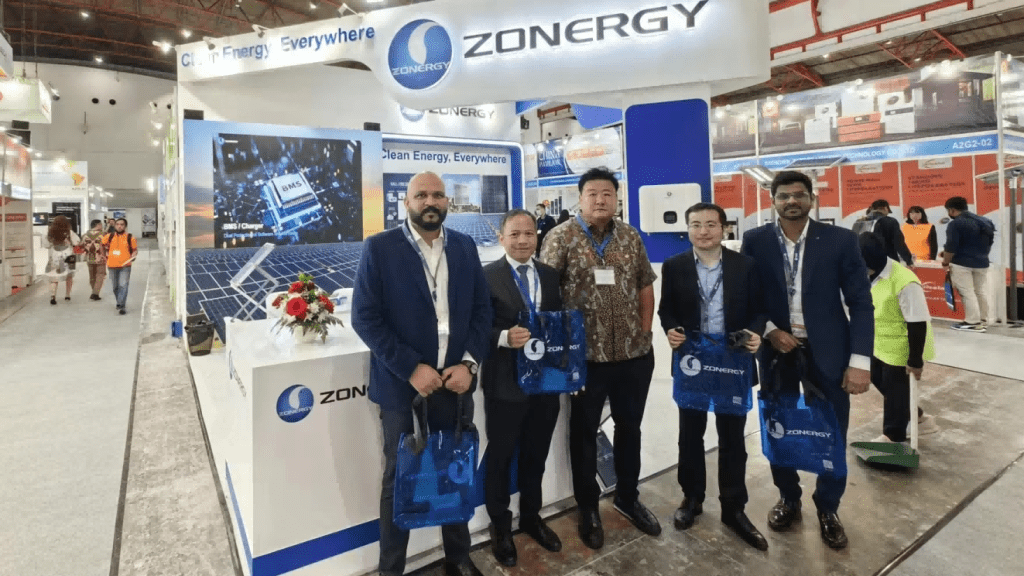 Zonergy exhibited a variety of products designed for the Indonesian market, including the Panda single-phase series, Apollo G-330 three-phase grid-connected inverter, Mercury series single-phase grid-connected inverter, portable power supply, and other products. The Panda series products, in particular, were designed to cater to the needs of local families. With a designed modular capacity of 5kWh, it can be flexibly expanded from 5 to 30kWh, while a built-in smart grid management system can serve the function of power grid dispatching.
Indonesia, a country with many islands, has an increasingly urgent demand for stable power supply. Against such a backdrop, the Indonesian authorities have picked up the pace to implement renewable energy power generation projects and upgrade power grid infrastructure, propelling the development process of the country's energy storage industry. Zonergy's products generated a lot of interest from potential clients from different industries, EPC companies, and distributors.
Solartech Indonesia is one of the largest annual solar energy exhibitions in the country. The exhibition covers an area of about 15,000 square meters and attracts about 20,000 visitors. A total of 300 solar industry exhibitors from 20 countries attended, and a series of business meetings, forum meetings, and other activities were held concurrently to facilitate exhibitors to find target buyers.
Zonergy Corporation is committed to focusing on customers and providing high-quality products and solutions. The company plans to further deepen innovation and research and development, and bolster the green development of Southeast Asia with technological innovation.