On August 28, Akcome Technology 700W+Heterojunction Module New Product Release Conference and Opening Ceremony of Hangzhou Future Research Institute was held in Changxing, Zhejiang Province.
The conference launched the new series of Akcome 700W+"ZERO Infinite" products and unveiled the plaque for the official completion of Akcome Hangzhou Future Research Institute, demonstrating the latest breakthrough by Akcome in the field of heterojunction products, and showing the firm determination of Akcome to help achieve the vision of peak carbon dioxide emissions and carbon neutralization.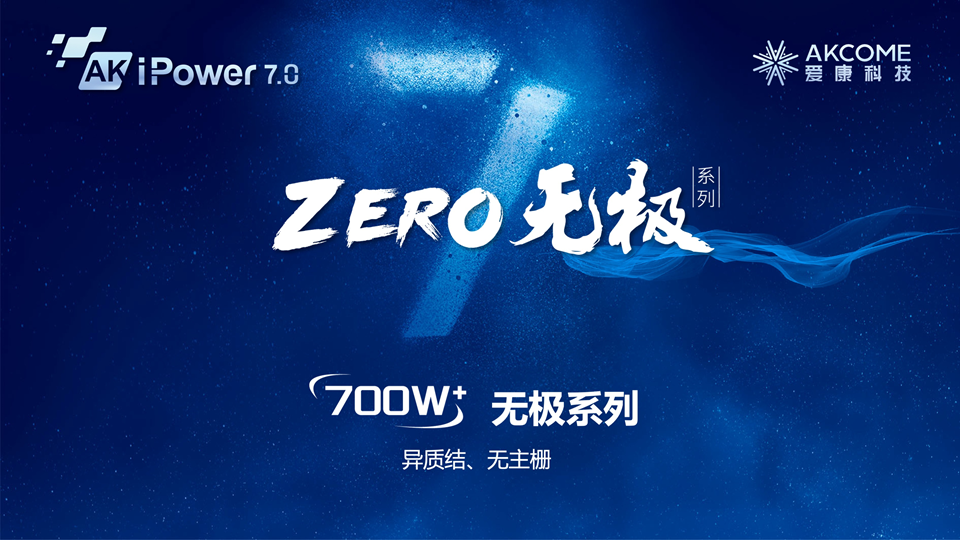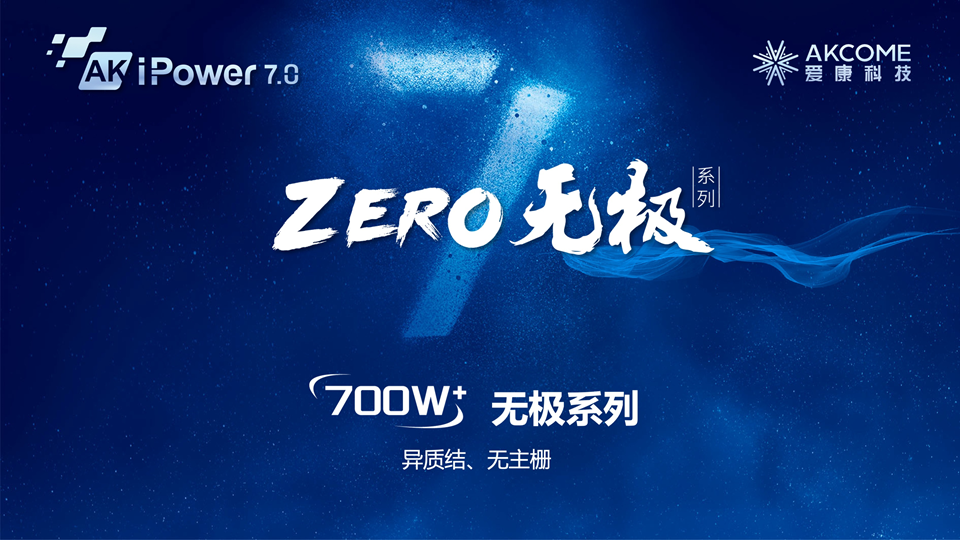 ZERO Infinite Series Family Launched
AK iPower is a series of high-efficiency HJT module products independently researched and developed by Akcome. Since AK iPower 4.0 and after four generation upgrade through 4.0/5.0/6.0/7.0, AK iPower 7.0 heterojunction module "ZERO Infinite" series becomes a new member of Akcome product family matrix, which carries out product technology iterative upgrading based on AK iPower 7.0, symbolizing Akcome's development vision of unlimited power efficiency and infinite possibilities of heterojunction technology.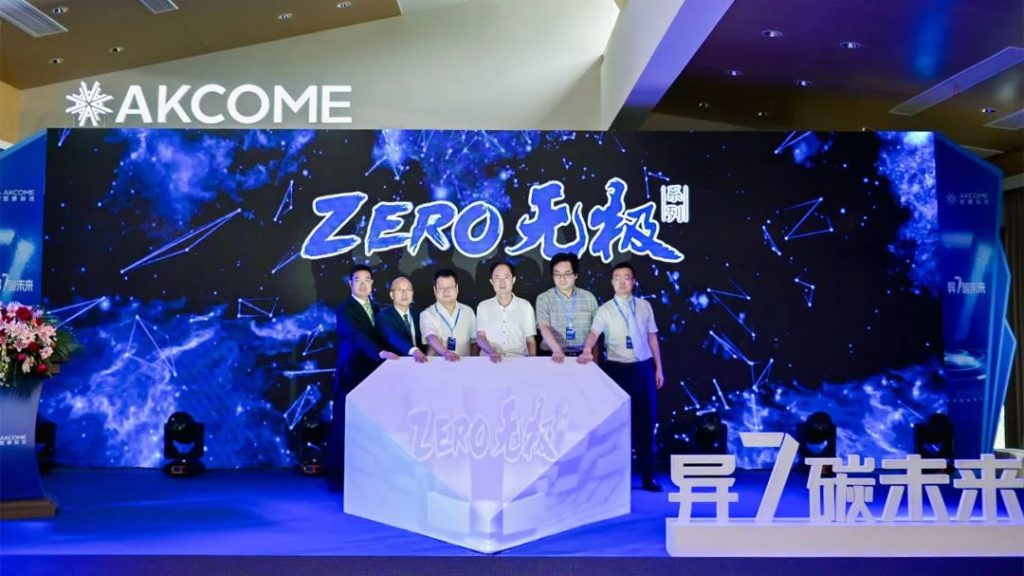 Based on 210mm heterojunction cells, Akcome Infinite series products designed three types, respectively applicable to different application scenarios, bringing more diversified product choices for customers. The product representing the highest power of this series is 210 HJT 66 version, with specification of 2384*1303*33mm, suitable for large ground power stations with power up to 700W+. The second module launched this time is 210 HJT 60 version, with specification of 2171*1303*33mm and power up to 635W, suitable for large industrial and commercial distributed power stations. The third component is 210 HJT 40 version, with a smaller body size of 1722*1134*30mm and suitable for distributed household power stations at home and abroad, with the current controlled at 8.51A through the unique design of Akcome, which can better match the inverter.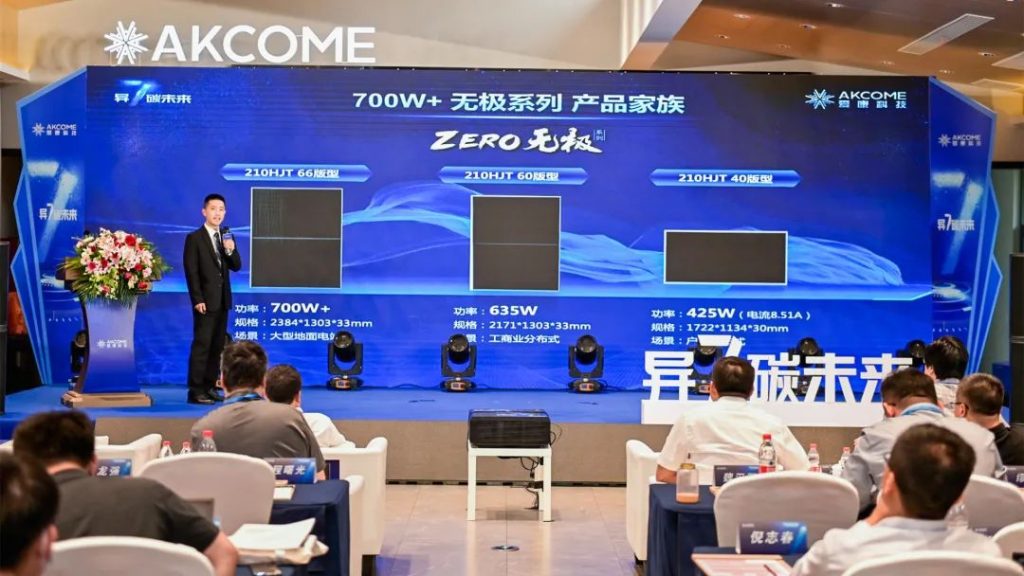 Innovative busbar-free technology promoting HJT metallization upgrade
Akcome ZERO Infinite series products are the latest products of Akcome 210 HJT iPower7.0 series efficient modules, comprehensively using the technology of busbar-free (0BB), silicon wafer below 120um, low silver content paste, high-strength steel frame, endowing the product with multiple advantages such as zero PID and LID, low temperature coefficient, high double-sided rate, low attenuation, high power quality assurance and high reliability."
Busbar-free (0BB) technology is a highlight of this product series, which can realize cost reduction and efficiency improvement for HJT cell and module. In terms of lowering the cost , busbar-free technology achieves a decline in production cost from two aspects of both silicon wafer and paste. On the one hand, based on the low-temperature packaging process, Akcome creates the foundation for silicon wafer thinning, which can further realize reduction in silicon wafer cost; on the other hand, the busbar-free design on the front of the cell can reduce the unit consumption of cell paste by 30%-40%, which helps to reduce the usage of cell paste and lower the production cost; from the perspective of improving efficiency, the application of Akcome busbar-free technology can reduce the barrier of grid line on the front of the cell and bring about an effective improvement of CTM.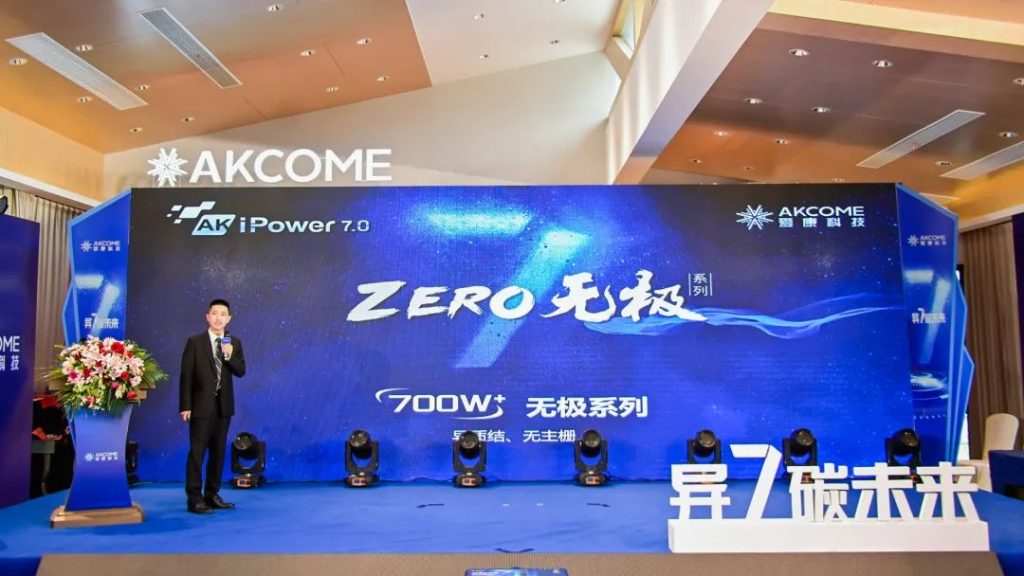 Multi-advantages, fully demonstrating customer value
In addition to the busbar-free technology, Akcome Infinite series also realizes the mass production of thin silicon wafer with thickness below 120um, and the thickness in the laboratory even lower to 90um, which can bring a 20% reduction in silicon wafer cost. In addition, the high-efficiency module of Akcome Infinite series are equipped with highyield galvanized magnesium aluminum frame, realizing four major performances upgrading in terms of material strength, tensile elongation at break, yield strength and tensile strength. At present, Akcome 0BB technology has passed the professional test of TÜV NORD, and has been awarded the world's first authentication certificate of 210 heterojunction busbar-free efficient module issued by TÜV NORD, and can provide customers with efficient and reliable HJT efficient modules.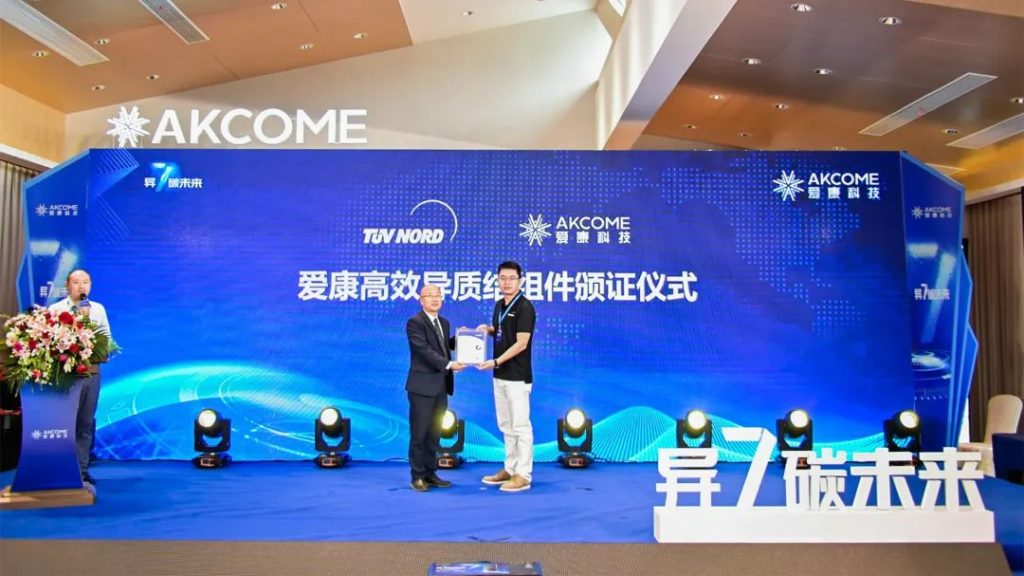 With excellent product performance, Akcome Infinite series products can provide customers with high power generation, low BOS cost, low LCOE, high IRR and other benefits. The Infinite series products are high efficiency heterojunction modules with features such as low temperature coefficient, high double-sided rate and low attenuation rate, resulting in higher power generation. Based on the 100MW fixed installed module capacity in Haikou city, the cumulative power generation per kilowatt for 30 years was simulated using PVsyst software. The total power generation of 210HJT-700 modul ewas measured as 36.255Mwh, exceeding the results of PERC and TopCon modules. Due to the high power, the 210HJT-700W product has significant advantages in the costs of support pile foundation, cable, installation and land, so the composite cost of 210 HJT-700W at the system end is relatively low. In addition, due to its high power generation, Akcome Infinite series products cause LCOE to lower by 2.56% compared with 182-PERC products, bringing higher return on investment for customers.
After many years of exploring in photovoltaic field, Akcome has never stopped exploring heterojunction technology. From the early stage of two-busbar and three-busbar technology to multi-busbar technology and super multi-busbar technology, now it has developed the busbar-free technology route. Always adhering to the original philosophy of "Intelligent and Innovative High-efficiency New Energy", Akcome has realized breakthrough and innovation of several core technologies in heterojunction field from 0 to 1.
In the future, Akcome will continue to explore the photovoltaic field, improve the configuration of photovoltaic industrial bases, continuously explore heterojunction industrialization technology upgrading, provide global customers with better, more reliable and diversified product solutions, promote energy transformation and upgrading with technological innovation, and explore the infinite possibility of heterojunction with high efficiency and expertise.