DMEGC Solar recently celebrated a significant milestone with its first 5GW high-efficiency solar module coming off the production line at Lianyungang manufacturing base, marking the base's transition into full-scale production. The base is not only DMEGC Solar's fifth intelligent manufacturing base but also its second largest operation in the region.
Construction of the Lianyungang base commenced in April 2023, and achieved its first product rollout and commenced mass production within just four months, a testament to the operational efficiency DMEGC is renowned for. With the start-up of the Lianyungang base, DMEGC Solar's module production capacity reached to 12GW.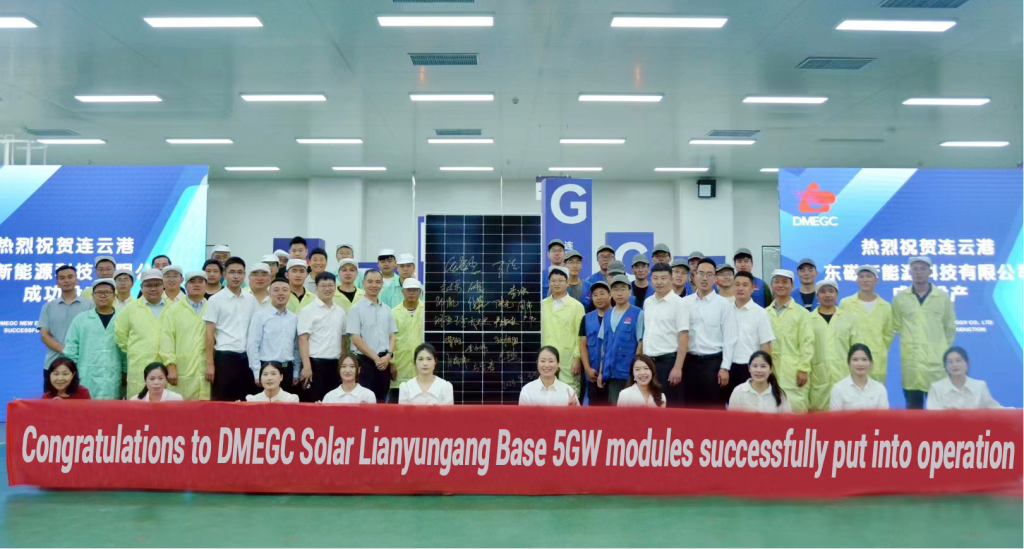 The Team of DMEGC Solar Celebrates Its 5GW Modules Rollout at the Lianyungang Manufacturing Base
With a designed production capacity of 5GW, the new base utilizes large-size N-type TOPCon high-efficiency cells and a suite of industry-leading technologies, including SMBB + Half-cell, lossless laser cutting and high-density packaging. These technologies promise superior performance in terms of power, efficiency, bi-faciality, temperature coefficient and low-light performance. The modules are designed to deliver a maximum output power of 630W and an efficiency of 22.54%, making them suitable for a range of applications such as large-scale power station projects and various "PV+" scenarios. The advanced design effectively increases power generation and lowers the levelized cost of electricity (LCOE), meeting the market's growing demand for high-efficiency, high-power modules.
With a commitment to green, intelligent and sustainable growth, DMEGC Solar's Lianyungang base has integrated automation, digitization and intelligence to create a cutting-edge digital smart factory. The transition towards digital manufacturing underpins the production of efficient, reliable PV modules. The base is gearing up to launch its "100% Green Power" initiative, aiming for zero carbon emissions throughout its manufacturing processes, and setting a benchmark for green, carbon-neutral factories in the industry.
The shift to mass production at the Lianyungang base underscores a pivotal moment in DMEGC Solar's entry into the N-type TOPCon space. By capitalizing on its expertise in industrial chain management, technological R&D and intelligent manufacturing, DMEGC Solar aims to enhance production efficiency, elevate product quality, curb production costs, and expedite delivery. This commitment not only ensures an expanding lineup of top-tier modules but also solidifies DMEGC Solar's dedication to fostering a greener, low-carbon future alongside its partners.