On June 2nd, the 98th solar power system along the highway shelterbelt in the hinterlands of the Taklamakan Desert has completed construction.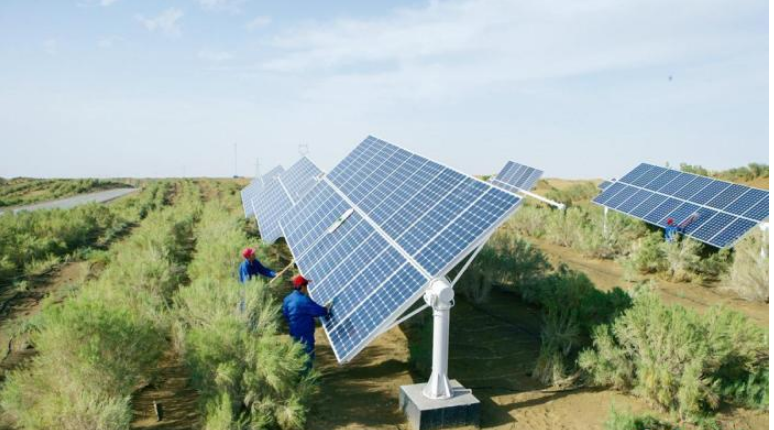 Source: China News
The solar power stations have been constructed by a subsidiary of China National Petroleum Corporation (CNPC) responsible for the Tarim oilfield. Relied on diesel in the past, the irrigation equipment for the selterbelt is now powered 100% by solar energy through the panels installed along the highway.
The Taklamakan Desert, also known as the "Sea of Death", is the largest desert in China, at over 1000km long and 400km wide. The desert is a waterless death trap, experiencing an average annual rainfall of just 1cm.
The highway on the "Sea of Death" was first built in 1995, with a total length of 566 kilometers. It is the world's longest highway stretching across a sand-shifting desert.
To protect the highway from sandstorms, CNPC built a 436km long shelterbelt and 109 pumping stations along the highway. The vegetation along the shelterbelt is now deeply rooted in the sands, creating an oasis in the desert.
Source: China News
In 2010, CNPC set up 12 solar power pumping stations along the highway as a pilot project. And since January 2022, the company began renovating the remaining 86 stations. After five months of construction, the pumping stations have now become 100% powered by clean energy.
Lei Ting, Executive Deputy Manager of New Energy Business at Tarim Oilfield, said that, the highway along Taklamakan Desert's "Sea of Death" is now powered totally by solar PV, with zero carbon emissions. "It is the first zero-carbon desert highway in China."
The shelterbelt spans across 33.3 square kilometers of land, able to absorb about 20,000 MT of carbon dioxide, neutralizing the emissions from vehicles along the highway. The solar power systems, compared to diesel, can further reduce 3,410 MT of carbon emissions each year.
The average height of the plants in the shelterbelt is more than 2 meters, with a survival rate of more than 85%. More than 100 species of birds have migrated and inhabited along this green belt.