Risen Energy, a leading solar module manufacturer in China, announced that the company has started the mass production of its 700Wp heterojunction (HJT) module—Hyper-ion series—at a launch ceremony in Shanghai.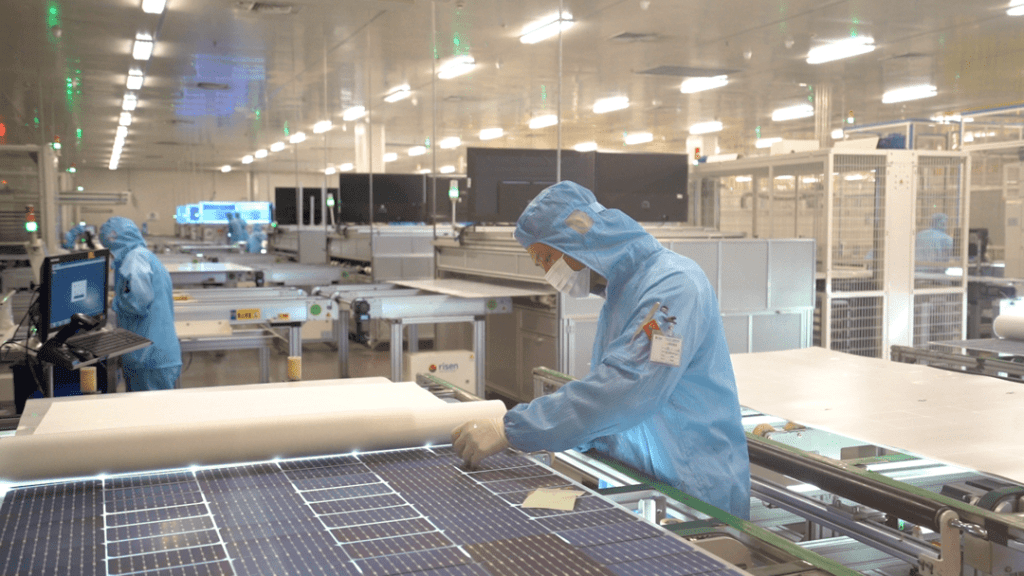 "Low carbon and high efficiency are at the core of Risen Energy's strategies," said Song Yifeng, Product Director of Risen Energy. The company aims to drive the development of the solar PV industry by investing in technologies that bring lower LCOE and produce fewer carbon emissions.
The 210mm HJT Hyper-ion series is a manifestation of Risen Energy's strategies.
[Video] Risen Energy displays the latest HJT module Hyper-ion at Intersolar Europe 2022
"At the forefront of n-type innovations, Risen Energy has given full play to the three advantages of HJT technology—high power, high efficiency, and high power output. The unique low-temperature process of HJT makes it easier to reduce the thickness of the cells, significantly reducing carbon emissions," said Song.
Since Risen Energy started to develop HJT technology in 2019, it has made major investments in the R&D of materials, equipment, technology, and processes. The company's innovations in encapsulants, water-blocking processes, anti-degradation solutions, and manufacturing equipment have strongly supported the mass production of the Hyper-ion series.
Incorporated with multiple innovative technologies, the Hyper-ion modules have a power output of up to 710Wp. With over 22.5% module efficiency, the modules boast a stable temperature coefficient and 85%±5% ultra-high bifaciality. Its power output can remain above 90% for 30 years.
Watch the webinar recording on "Unleash the Potential of HJT Solar Cell Technology" featuring Song Yifeng, Product Director of Risen Energy.
Adopting cutting-edge 100μm ultra-thin cells and low-temperature technology, the module's carbon footprint value has been proven to be lower than 400kg eq CO2/kWc.
In high-temperature regions like the Middle East, the Hyper-ion series can produce 6% more power than PERC modules and 3% more than TOPCon modules, said Risen Energy. At a typical 100MW solar power plant, the Hyper-ion can produce 6 million kWh more power than PERC products, which is equivalent to reducing an additional 5,760 tons of CO2.
The production capacity of Hyper-ion cells and modules is planned to reach 5GW in the first half of 2023, and 15GW in the latter half.