Some 42 solar industrial enterprises recently have issued performance forecasts for the first half of 2022, with 35 enterprises achieved positive net profit growth, accounting for about 83.4% and 7 observed decreased income, accounting for about 16.6%.
Among the enterprises with positive growth, the net profit of silicon material and wafer producers in the upstream increased significantly, while cell and module manufacturers in the middle stream maintained stable income, with few showed explosive growth.
Seen from polysilicon, wafer, cell and module enterprises, some 19 have released their H1 financial report, of which 18 have achieved positive net profit growth and one made loss.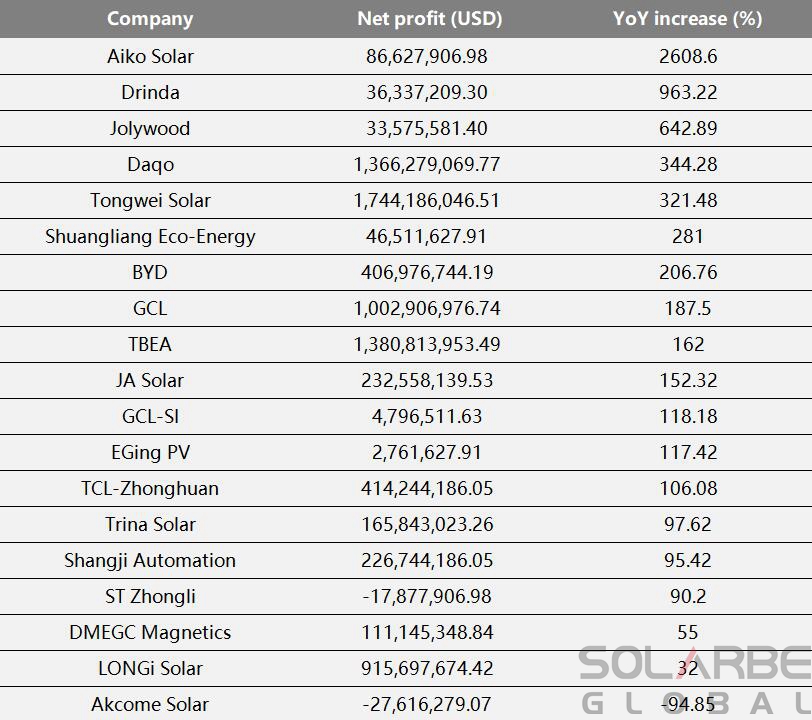 In specific, as the most "tight" upstream link in the supply chain, the silicon material enterprises realized excellent overall profitability under full production and sales. The net profit of Daqo and Tongwei increased the most, with a year-on-year increase of more than 304% respectively; that of GCL and TBEA also reached 149% and above. Since 2022, the total amount of long-term contracts signed by silicon material enterprises has reached 1.29 million tons, left the market with limited available retail surplus, and the price keeps rising with tight supply. According to Solarbe, the silicon price has risen for the 26th time since the year, with the highest price reaching RMB 310,000 (USD 45,689) /ton, an increase of 30.37% in the year. Polysilicon leading enterprises thus have achieved super high net profit by virtue of their capacity and cost control advantages.
The overall profit level of silicon wafer enterprises reached over 32%, among which the highest expected net profit of Zhonghuan and Longi, the leading silicon wafer manufacturers, are 106.08% and 32% respectively.
For module makers, among the eight that have disclosed their performance, the overall net profit level has increased by over 40% on a year-on-year basis. Trina Solar and JA Solar claimed satisfying profit of 152.32% and 97.62% respectively via self-made wafers and cells, despite of soaring silicon prices.