On January 26th, Jinko Solar (SH:688223), the subsidiary of JinkoSolar (NYSE: JKS), is officially on board of the STAR Market of Shanghai Stock Exchange. The highest price reached RMB 11.77 per share, rocketing over 135% higher on the first day of trading after the IPO. The market capitalization value reaches over RMB 100 billion.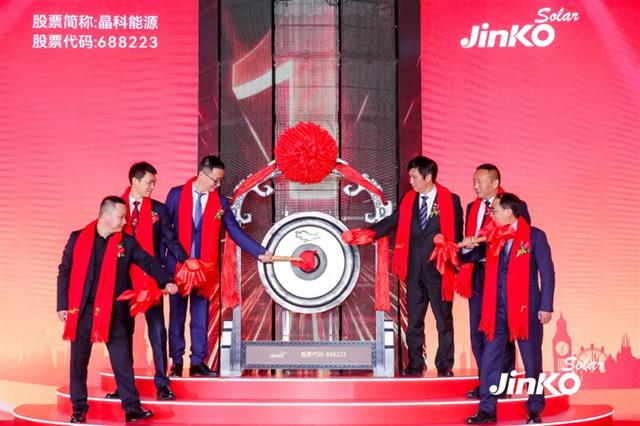 As a world-leading solar PV manufacturer, JinkoSolar was established in 2006. Twelve years after the company got listed on the New York Stock Exchange in 2010, JinkoSolar is finally back to China's stock market.
JinkoSolar's major businesses include solar PV modules, cells and silicon wafers, that are well-received overseas. According to GlobalData, the company ranked first in global PV module shipments for four consecutive years from 2016 to 2019.
By the end of 2020, JinkoSolar has shipped about 70 GW of solar PV products in total among the 700 GW of solar installed globally. This means in every ten modules installed in the world, there is one coming from JinkoSolar.
Statistics show that JinkoSolar has a prominent presence in major solar markets. Its market share in the US, Vietnam, Japan, Australia and the Netherlands have reached 24%, 21%, 17%, 16% and 20% respectively.
As a vertically integrated PV maker, the solar giant has deployed manufacturing capacities in silicon rods, wafers, cells and modules.
By the end of 2021, the effective production capacity for mono wafer, cell and module has reached 32.5 GW, 24 GW and 45 GW.