Trina Solar announced the delivery of its 670W bifacial solar modules to a project with a total installed capacity of 379 MW in Alcántara in Extremadura, Spain.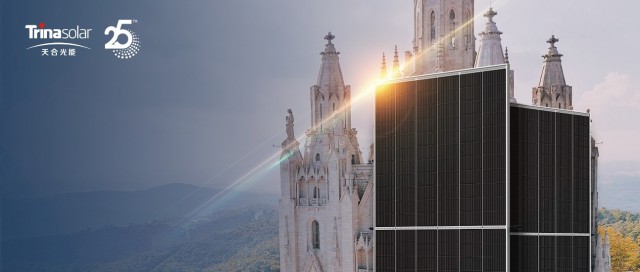 Equipped with advanced technologies, Trina Solar's Vertex series with high power, high efficiency, high reliability and high power generation have become a top choice for the Spanish developer, said Trina Solar in a statement.
The Vertex series modules can achieve a high power output of up to 670W+ while maintaining an excellent temperature coefficient and low irradiation performance. In addition, the high-efficiency monocrystalline cells and high-density encapsulation technology raise the module efficiency up to 21.6%.
Trina Solar's design uses low-voltage and a higher module string power output to connect up to 28 modules in a string and achieve an up to 34% power increase over other reference modules.
The Vertex high-power bifacial modules place the PV plant in Alcántara as a regional leader in solar innovation. Yield potential increases due to the 210mm silicon wafer technology at lower BOS costs, while ensuring that the system is fully compatible with market technology.
Trina Solar's Head of Europe, Gonzalo de la Viña, said the company's focus is providing the highest efficiency possible through innovation to do its part to help Europe attain its sustainable energy goals.
De la Viña added, "Not just because it's the right thing to do from an environmental standpoint, but it also makes good economic sense."
The delivery represents Trina Solar's continued commitment to developing solar resources throughout Europe, helping to create innovative solutions for renewable energy infrastructure.