Türkiye (Turkey) has been ramping up its solar capacity in recent years and aims to become the third biggest manufacturer in the world by this year. Now on the fourth place, followed after China, Vietnam and South Korea, the country has introduced more measures to reach this ambitious goal.
To this regard, Solarbe Global has invited Selen İnal, Business Development Manager, TurSEFF at Stantec Turkey and Prof. Nawras Kahwaji, Managing Director ( Founder ), Solar Energy Systems Company to join the virtual session of this month and shed a light on local manufacturing landscape.
Selen İnal has over 20 years of experience in renewable business including power plant investments (natural gas, hydro, solar, wind and biogas for more than 2,200 MWs), electricity trading, electricity market, engineering & design, investor relations and project finance; approaching projects from technical, financial, legal, and commercial point of views. She opened the session by giving an overview of Turkish solar market. According to İnal, the country has installed 8.7 GW of solar as of this July, accounting for 8.5% of the total share. The growth of solar installation is also beyond expectation, from 188 MW in 2013 to 8,659 MW in 2022, with great leap seen in each updated year. Considering the solar potential and its wide range applicability, the installation in this area may be further accelerated, said İnal.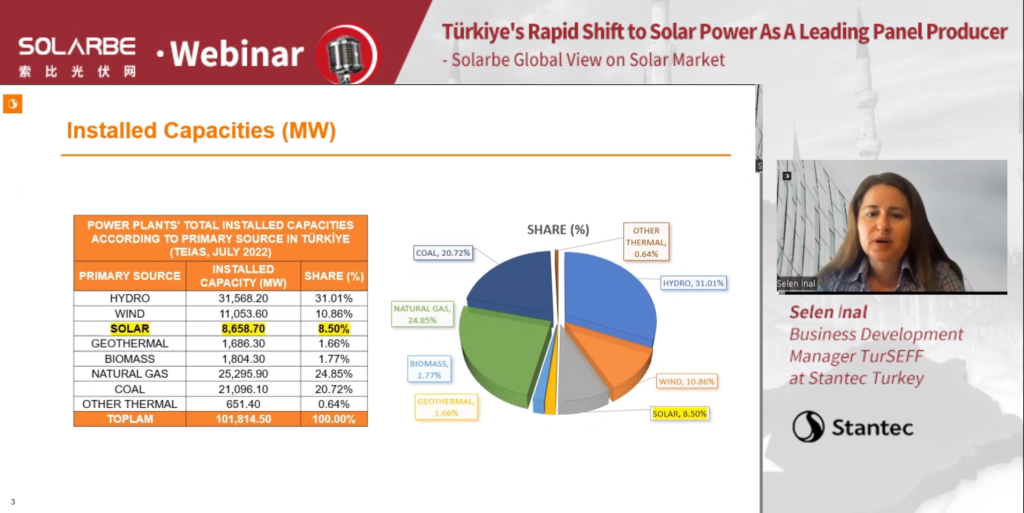 She also introduced local solar regulations and old and new renewable energy support prices. İnal said that for solar power plants to be commissioned between July 1, 2021 and December 21, 2025, the new YEKDEM prices were determined for the power plants in TL kurus/kW, and these prices will be updated quarterly with respect to producer and consumer price index and the rate of exchange for USD/kurus and Euro/kurus. The YEKDEM prices will be applied for 10 years and 5 years additional price in case of use of domestically produced equipment, she added.
For development of solar panel manufacturing, İnal introduced the evolution process of local manufacturers and their capacities. Among them, Antalya with the CW Enerji factory and Kocaeli with the Smart Solar Factory, both of which have annual capacity of 1 GW, are the provinces with the highest solar panel installed capacity. According to her presentation, some 16 major players brought solar panel production capacity in the first half of 2020 to 5.6 GW per year, totaled 8 GW per year with additional capacity, other players and new comers of the industry. These are installed capacities without consideration of capacity factors. Cell production installed capacity is estimated at 1.13 GW per year, wafer 500 MW and ingot 500 MW.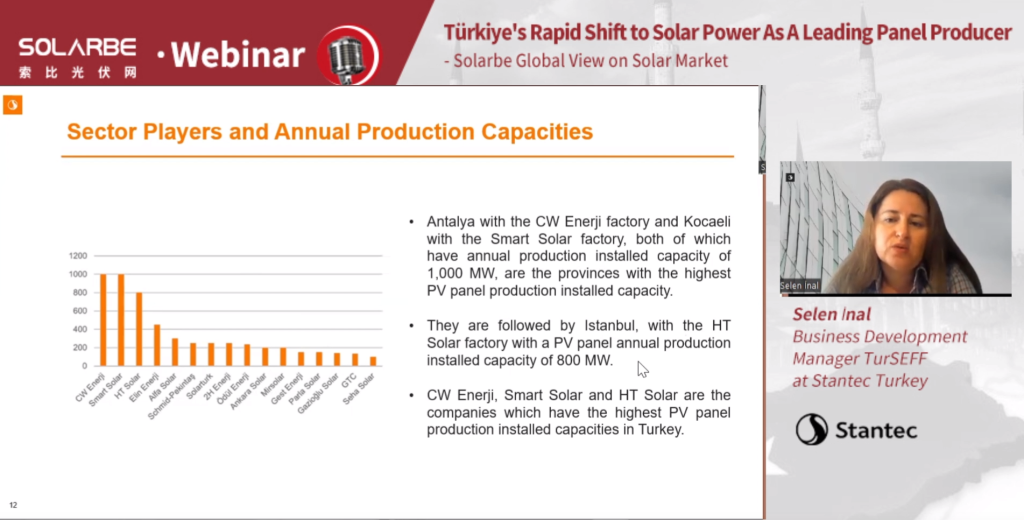 When it comes to local content materials used in the pv panel production, the average panel local content ratio could reach 58.2% (in 2020). The Turkish government supports and encourages local production of solar panels and use of domestic panels with regulations. Meanwhile, they have been trying to improve the export rates in targeted foreign markets, with about 27.5% in the Middle East, 19.6% in Europe and 15.7% in North Africa.
Professor Nawras Kahwaji, General Manager and Founder of Solar Energy Systems Company, explained the strong support from the Turkish government towards local manufacturing of solar products.
He said, the Turkish government has encouraged investment in local industries in all fields, including the solar energy industry, by securing the most important material in the manufacture of PV modules, which is the cells.
The policies are aimed at increasing the country's self-sufficiency and creating job opportunities.
"Desiring to do so, it required renewable energy developers to source equipment and services locally and required project developers to source nearly three-quarters of equipment and services locally in order to support the industry," he added.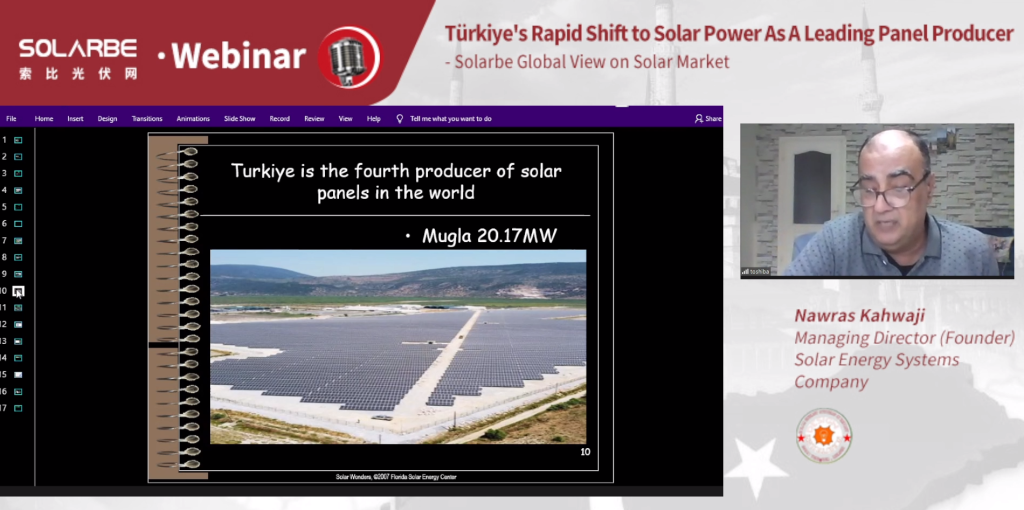 Currently the fourth producer of solar panels in the world, Türkiye's annual capacity is 7.96 GW, behind China (124 GW), Vietnam (14 GW) and South Korea (9.2 GW), according to the country's Department of Energy.
The Minister of Energy and Natural Resources, Fatih Donmez, said that the country aims to enter the top three in 2023.
Türkiye has the world's first and only manufacturing facility to allow production of wafer, cell and module under one roof.
The plant, owned by Kalyon Holding, has 500 MW production capacity for modules. It aims to increase the capacity to 1,000 MW.
As for other plants, Professor Kahwaji added that, "Antalya province, with the CW Enerji factory, and Kocaeli province, with the Smart Solar factory, are the provinces with the highest manufacturing capacities, at an annual production capacity of 1,000 MW, respectively."
Türkiye is also one of the world's leading countries in wind and solar energy installations, said Professor Kahwaji.
He added that, Türkiye has managed to become the ninth in the world and the third in Europe among the countries that have increased its installed capacity for solar energy.
The country has the world's seventh largest and Europe's largest PV plant, the Karapınar PV plant. The plant has 1.35 GW of solar modules that will translate to 1 GW of alternating current.
In order to attract more investment and help small and medium-sized investors to enter the market, the Turkish government in October 2021 issued 74 tenders with a capacity of 10, 15, 20 MW each in 36 regions with a total capacity of 1.5 GW and will supply 2 million people with electric power.
When asked whether there were opportunities for foreign modules, Professor Kahwaji said that, "In the Turkish market there are foreign brands but Turkiye has changed the way it calculates import duties on photovoltaic (PV) solar modules."
He added that, "Under the previous rules – in force from May 2017 until Apr 2020 – PV panels qualified for reduced value-added tax (VAT) rates because they were charged per square meter rather than per kilogram. This meant that yields could increase as module sizing remained unchanged per shipment.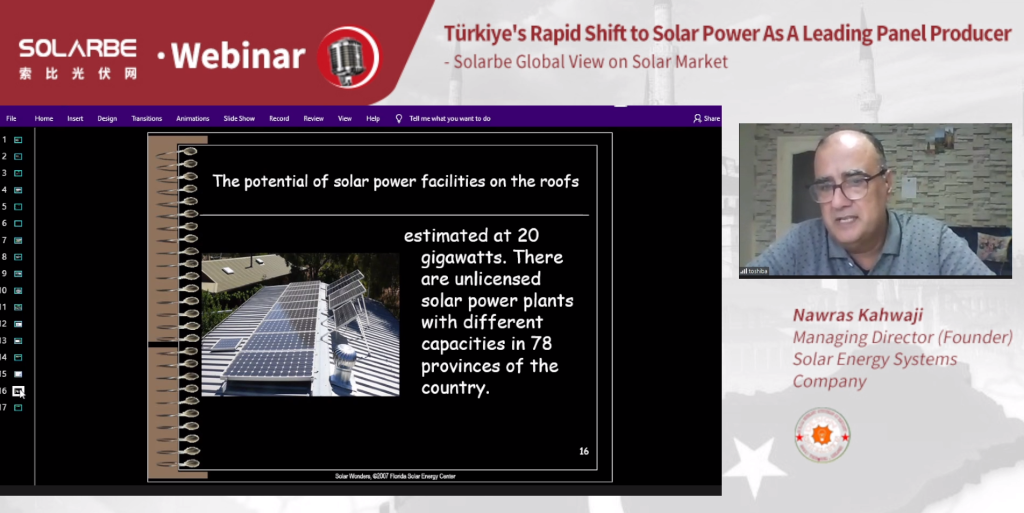 Now, though, the government has said the rules will be altered to reflect charges per kilogram, which is significant as new manufacturing processes mean PV panels are becoming heavier.
This may equate to benefits for Turkish manufacturers, as businesses could be put off importing heavy panels they could purchase from within their own shores if they are to be charged more for them."
About opportunities for other components in the solar system, Professor Kahwaji commented that, in Türkiye there is one manufacturer to produce grid inverter but it is not sufficient for local market. However, about tracking, solar battery, battery charge controllers and mounting system, there are manufacturers covering the local market.