Solar giant LONGi has announced it has broken another efficiency record for gallium-doped p-type heterojunction (HJT) solar cell at 26.12%. The result has been confirmed by the Institute for Solar Energy Research Hamelin (ISFH).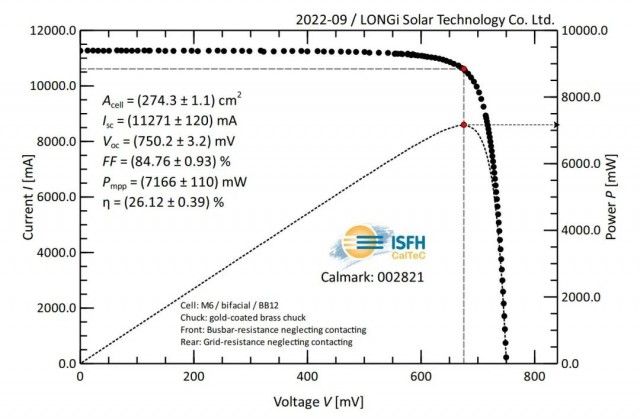 The new record has been created just six months after LONGi achieved an efficiency record of 25.47% in March this year.
LONGi's research team has upgraded the wafering process for better resistivity and longer lifespan of the solar cells. The cell's short-circuit current, open-circuit voltage and fill factor have been improved by 1.06%, 0.3% and 1.1% respectively.
The development process of the cell is similar to that of n-type cells, demonstrating the technology's versatility and stability, the company said.
In 2021, LONGi has broken conversion efficiency records for seven times, and pushed the efficiency of n-type TOPCon to 25.21%, p-type TOPCon to 25.19% and n-type HJT to 26.30%.