In 2022, the top 10 Chinese manufacturers have shipped over 240 GW modules globally, up 60% and occupying over 90% of global demand, according to the annual module shipment ranking published by Solarbe and Solarbe Consulting.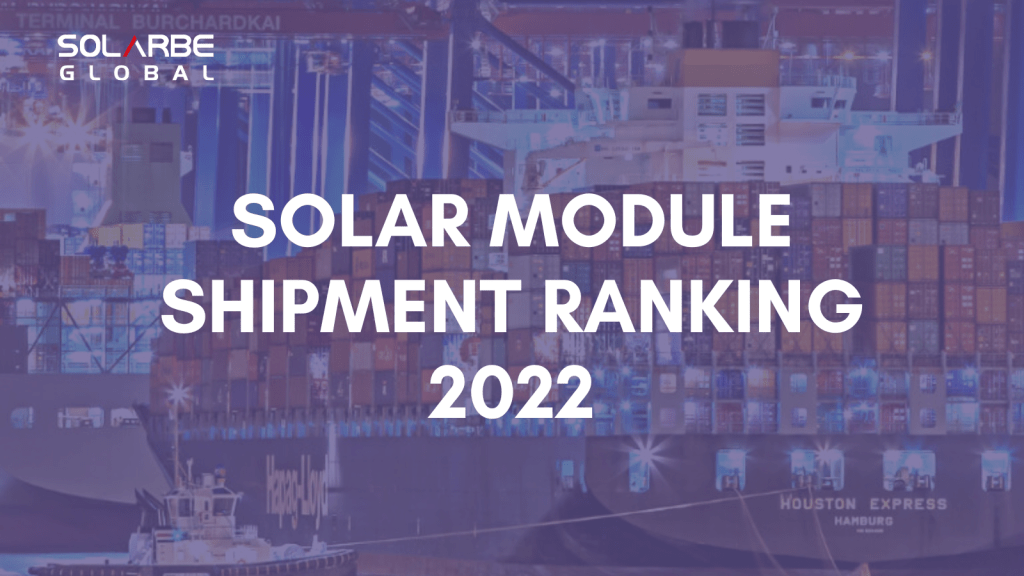 LONGi, Trina Solar, Jinko Solar, and JA Solar remain the top 4 manufacturers, shipping a total of around 170 GW globally, accounting for two-thirds of newly added installations.
The heavyweights have remained in their leading positions in the market and technological innovations. Their products have been regarded as top choices by developers and investors in China and overseas and are widely acclaimed by owners and financial institutions.
Solarbe analysts predict their shipment volume to surpass 240 GW in 2023.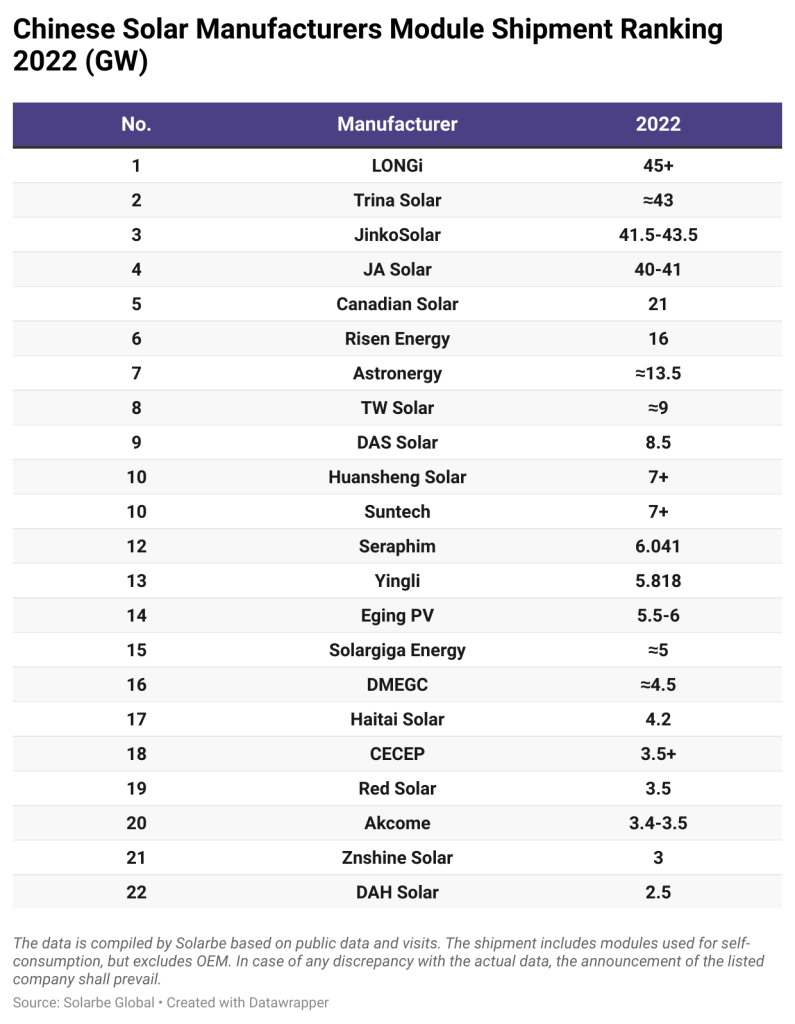 The past year has seen a rapid expansion of production capacity and an increase in market concentration.
The threshold to be listed among the top ten has doubled to reach 7 GW. The sales directors of multiple module producers said that the market had boomed in 2022. Most manufacturers have shipped more modules in the first three quarters of 2022 than in the whole year of 2021.
As many manufacturers have made ambitious ramp-up plans, their shipment targets for 2023 have also seen a substantial increase.
Solarbe Consulting's data shows that China's top 10 module producers aim at shipping a total of 400 GW in 2023. This has far exceeded module demands globally, which implies mounting competition in the market.
From January to November, the export volume of solar PV products hit USD 47.75 billion. Except for the top 4 manufacturers, Canadian Solar and Risen Energy have shipped over 60% of their modules overseas. The ratios have even reached 80% and 90% for Znshine Solar and DAH Solar.
With the advent of commercial n-type solar cells and modules, the shipment volume of TOPCon and heterojunction (HJT) modules has exceeded 20 GW. Jinko Solar alone has delivered over 10 GW of n-type TOPCon modules.
As the price difference narrows between n-type and p-type modules, n-type is projected to become more economical in 2023. Its shipment volume may witness a massive expansion to reach 60-70 GW.
Except for LONGi which is focusing on developing HPBC technology, most new production capacities have adopted n-type technology.
Trina Solar said its n-type capacity will reach 30 GW, shipping over 20 GW globally. Jinko Solar also revealed that the n-type products will account for over 50% of its production capacity and shipment in 2023.
Risen Energy said to improve HJT solar cell and module production capacity to 15 GW. DAS Solar has also planned a 60 GW capacity for n-type solar cells and modules for the year.
Solarbe Consulting predicts global newly installed solar capacity to exceed 260 GW in 2022, which means over 90% of the modules have been supplied by Chinese manufacturers.