Planned solar cell and module production expansion in China has exceeded 650 GW in the first half of 2022, far exceeding market demand, according to the latest statistics from Solarbe.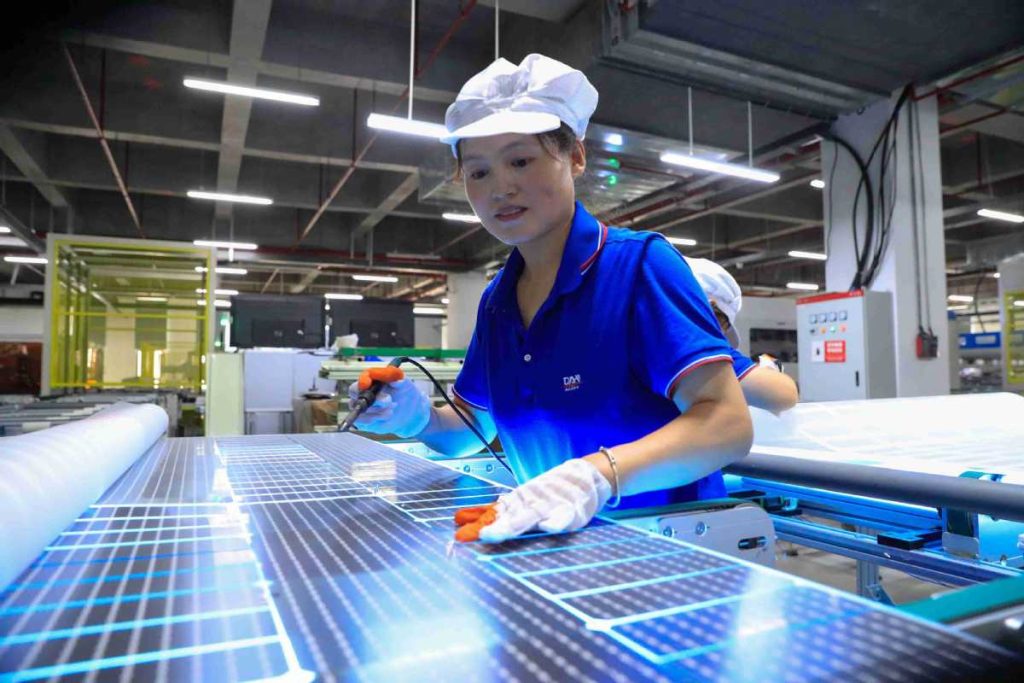 Production expansion for solar modules alone would be expected to reach 360.5 GW, much higher than the 204 GW to 252 GW newly installed capacity predicted by BNEF for 2022.
Solar cell: 292.5 GW, n-type accounting for over 42%
In the first half of this year, 292.5 GW of solar cell manufacturing projects have been announced, with a total investment of over 93.2 billion yuan.
Among them, manufacturing facilities with a total of 170 GW annual output have been confirmed to be put into operation by 2025. A total of 30.3 GW will be commissioned this year, followed by 106.41 GW for 2023 and 35 GW for 2024 to 2025.
Tongwei Group, among others, announced the largest scale of expansion.
On March 31, Tongwei's 32 GW high-efficiency silicon cell facility was announced in Meishan, Sichuan province. The facility will be constructed in two phases. The 16 GW phase one cell facility is planned to be put into operation by the end of 2023.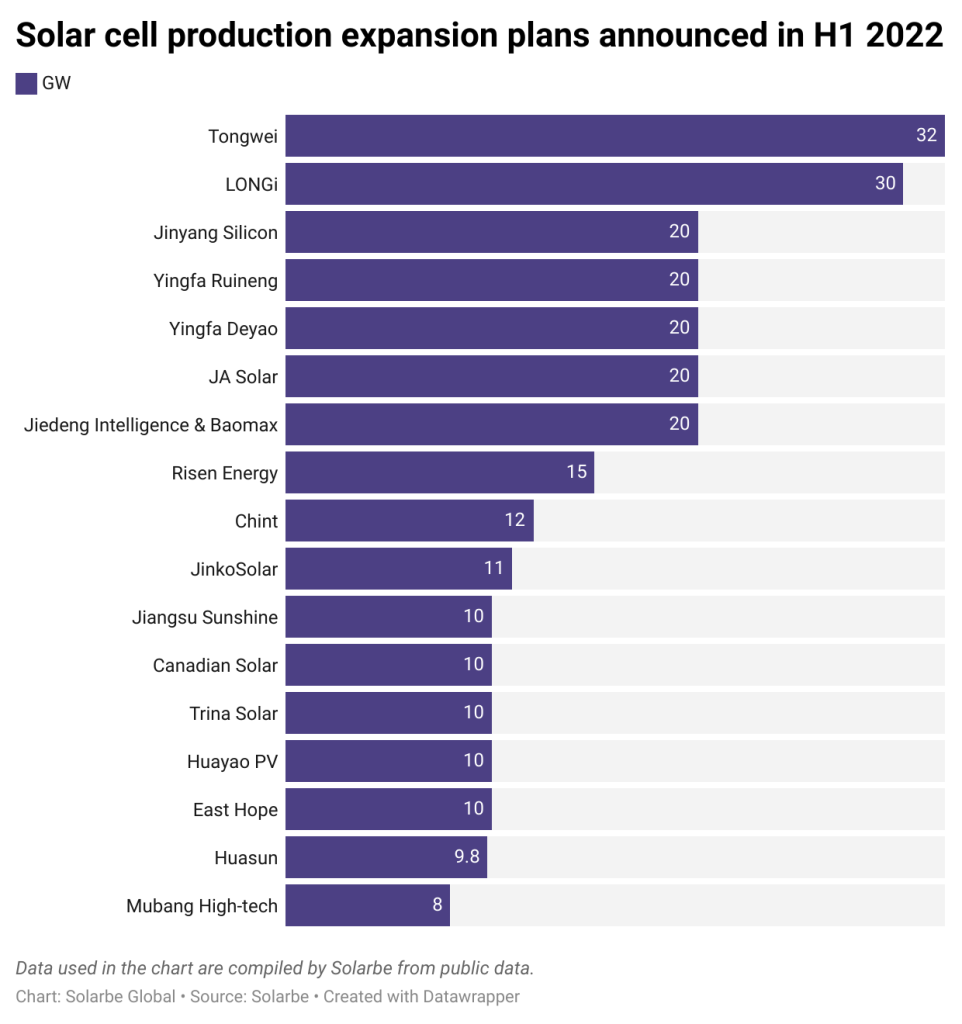 On March 13th, LONGi announced its plan to build a 30 GW high-efficiency mono cell project in Erdos City, Inner Mongolia. The project was expected to be put into operation in less than 6 months.
It is worth noting that n-type solar cell technology accounts for over 42% of the planned production expansion and totals 123.6 GW. The rest of the projects have not yet disclosed the technical route they have adopted.
Altogether 12 enterprises have chosen heterojunction solar cell technology, with 91.1 GW planned production capacity to build. Five enterprises, including JinkoSolar, Mubang High-tech, Yingli Solar, ReneSola and SolarSpace have picked TOPCon solar cell technology.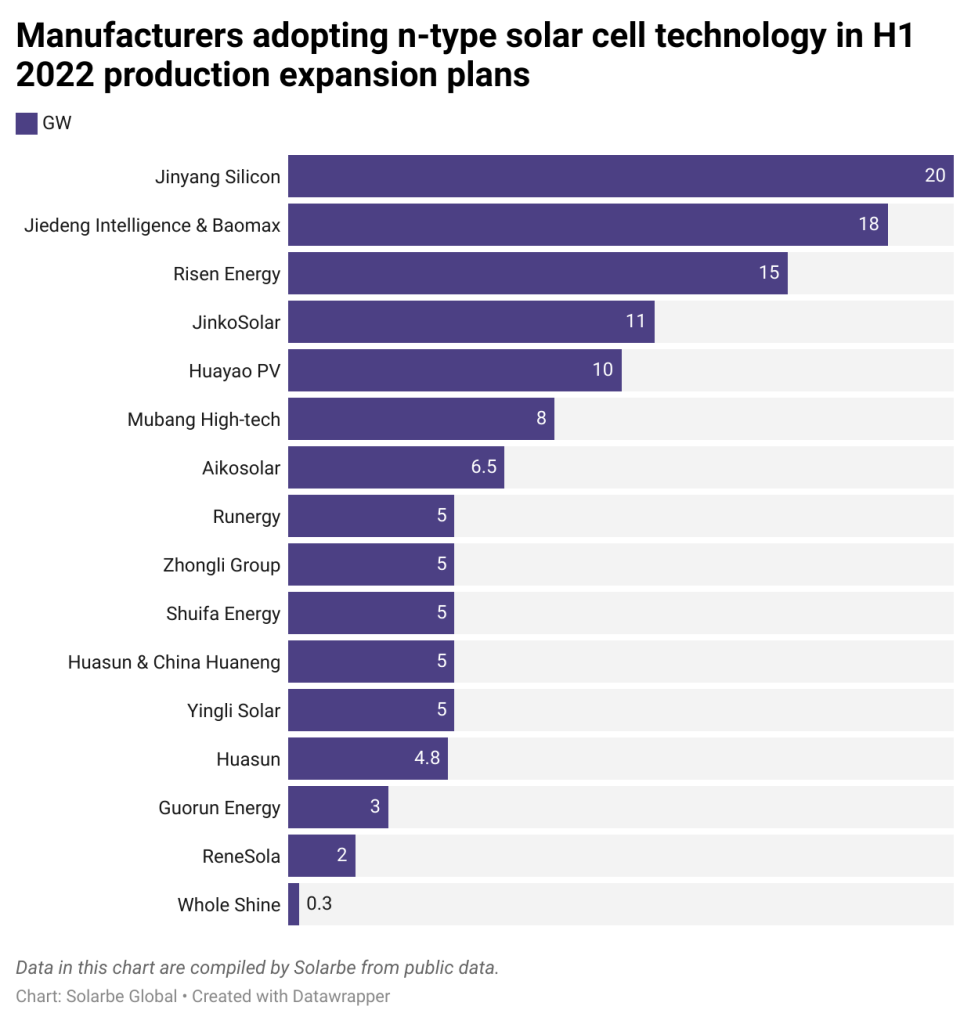 Solar module: 360.5 GW, with over 27% using n-type technology
In the first half of this year, 360.5 GW of new solar module manufacturing capacity has been announced, costing 146.4 billion.
The time for commissioning for 113 GW projects have been confirmed. In 2022, 22.5 GW of projects will be put into operation, while the capacities to be put into operation in 2023, 2024 and 2025 are 16.2 GW, 30.3 GW and 44 GW.
JinkoSolar has announced the largest production ramp-up of 41 GW, followed closely by LONGi with 36 GW. Other enterprises include Chint New Energy (20 GW), JA Solar (16 GW), Tianda New Energy (15 GW), Risen Energy (15 GW), Trina Solar (12 GW), etc.
Polysilicon manufacturers have also made plans to expand into downstream segments of the solar sector.
East Hope Group, for example, plans to build vertically integrated production capacity of 400,000 tons of high-purity silicon, 490,000 tons of industrial silicon, as well as wafer, cell, and module.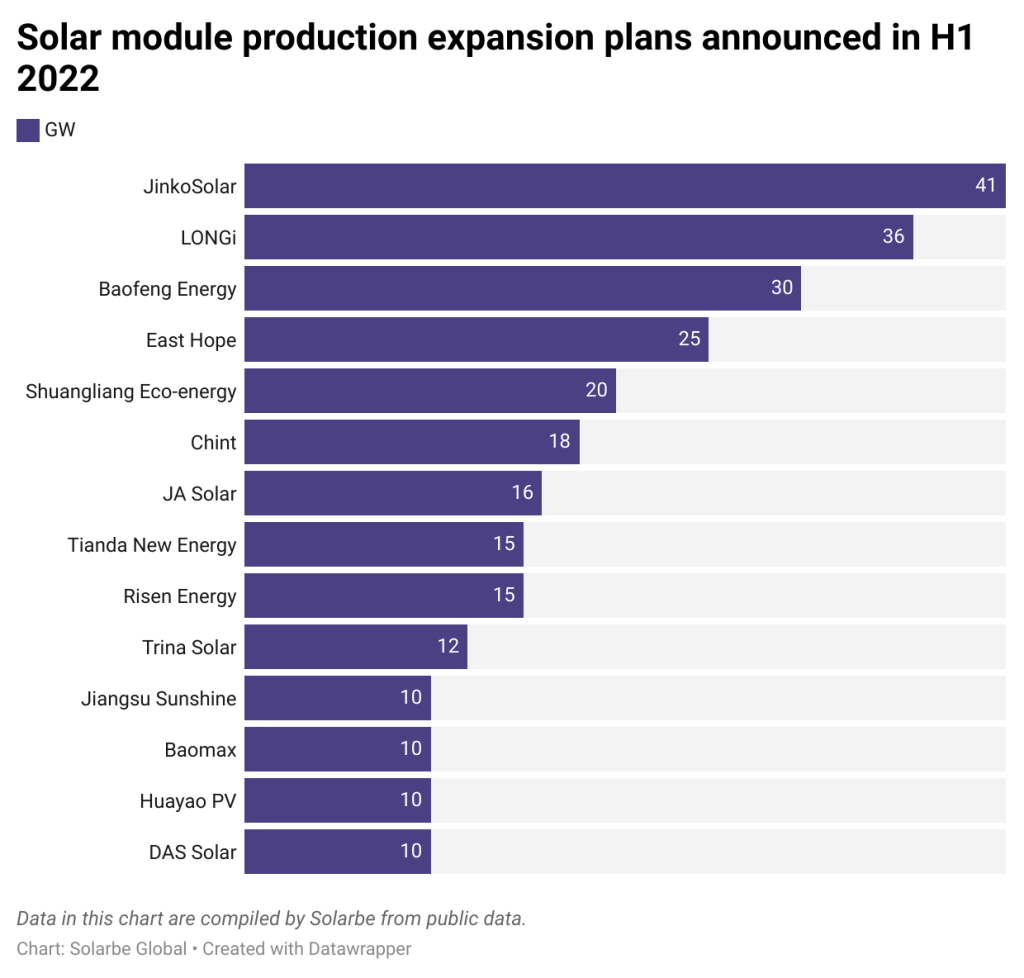 As for next-generation technologies, nine enterprises have chosen heterojunction, including Risen Energy, Akcome, Huasun, etc.
JinkoSolar, however, has picked TOPCon. The company's 24 GW TOPCon module facility will be built in Shangrao, Jiangxi province, and the 15 GW project in Jinhua, Zhejiang province has started construction in late June.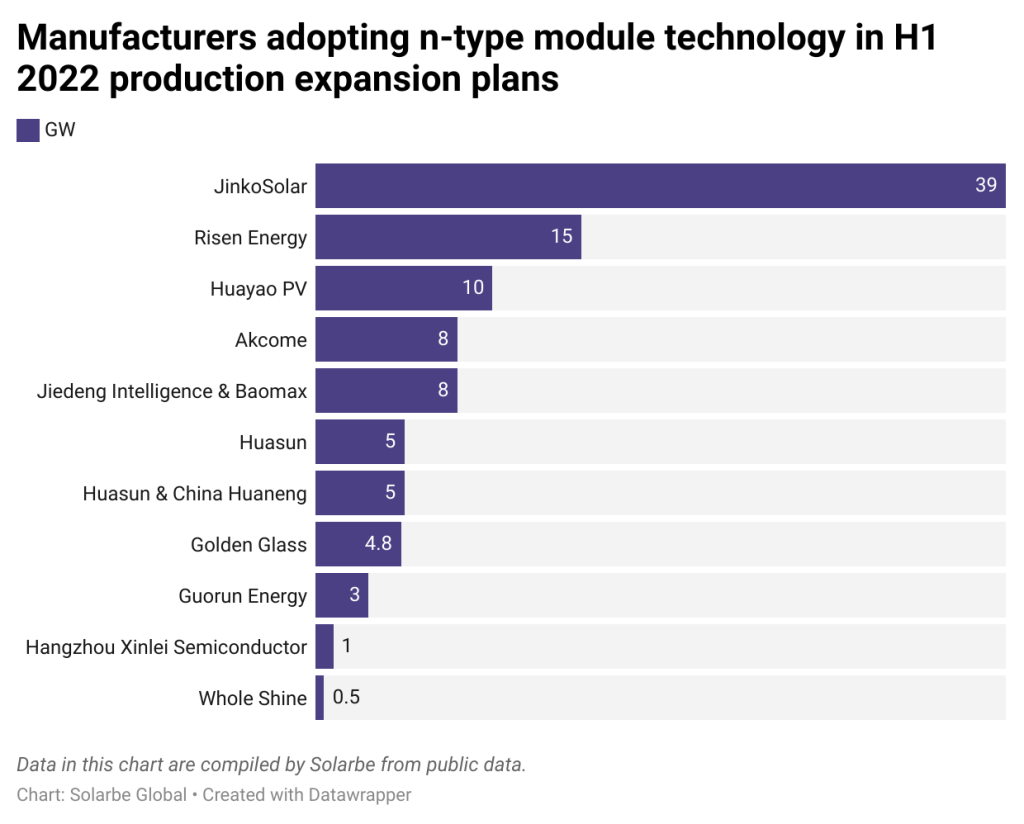 Besides n-type technologies, a manufacturer in Jinchang has bet on perovskite solar modules by building a factory with 1 GW annual production capacity.
The production of solar modules designed for building-integrated PV (BIPV) applications have also picked up pace.
Xiuqiang Group invested 248 million yuan to build a 500 MW BIPV module production line. 
Curtain wall giant Jangho Group has poured 500 million yuan to build a 300 MW manufacturing facility for special-shaped solar modules used on BIPV applications.