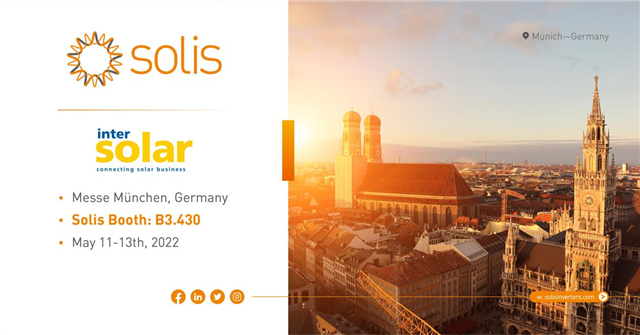 Intersolar Europe will be held in Messe München on May 11-13. At B3. 430, Solis will showcase 3 new energy storage inverters to bring more intelligent and smart solutions and provides more usable energy to customers.
The Solis solar energy storage portfolio is being expanded with new, it is reported that this is Solis in-depth analysis of market demand, customer demand as the starting point of independent design of the new series of products. What are the three new energy storage products? Let's have a sneak peek!
S5-EO1P(4-5)K-48 series off-grid inverter is designed for areas without power grids or areas with frequent power outages. It supports parallel operation up to 10 units, system up to 50kW. Exquisite appearance and compact structure make installation more convenient. Integrate multiple protections and fault monitoring to ensure the safety of batteries and equipment.
S6-EH1P(3-6)K-Lsupports up to 10 units in parallel on Grid and Backup and supports pure off grid applications with generator. It's suitable for small to medium level commercial energy storage systems. Up to 16A of MPPT current input to support 182mm/210mm solar panels. Supports 1.6 DC:AC ratio to connect more PV capacity to the energy storage system.
S6-EH3P(5-10)K-H integrated 2 to 4 MPPTs, suitable for residential rooftop installations with multiple array orientations. It supports Unbalanced and Half-Wave Loads on the Grid Port and on the Backup Port. S6-EH3P(5-10)K-H supports up to 10 units in parallel on Grid and Backup. It's suitable for small to medium level commercial energy storage systems. It supports pure off grid applications with generator communication support. Compatible with multiple brands of battery models giving customers multiple battery options.
Solis will always adhere to the corporate mission of "developing technology to power the world with clean energy". Solis is committed to a global vision built on product-centered engineering, putting customers at the centre of our most critical decisions and ensuring that we play our role in the transition to clean energy by helping make it more efficient, safe, and dependable. Whether you're an existing customer or new to Solis and interested in adding the brand to your product portfolio, we look forward to welcoming you onto the Solis booth. A drink, something to eat and most importantly, a soft seat awaits you at B3. 430!
About Ginlong Technologies (Solis)
Established in 2005, Ginlong Technologies (Solis) (Stock Code: 300763. SZ) is one of the world's largest and most experienced solar inverter manufacturers. The company provides cost-effective solutions for homes, businesses, and large-scale power plants delivering value at every level of the solar supply chain and appealing to homeowners and businesses, as well as electricity producers and renewable energy investors globally. Combining a global supply chain with world-class R&D and manufacturing capabilities, Ginlong optimizes Solis inverters for each regional market, serving and supporting its customers with a team of local experts. The company aims to work with stakeholders to accelerate the world's journey towards a more sustainable future.
For more information visit www.solisinverters.com