Sungrow, a leading inverter and energy storage system solutions supplier, displayed its latest PV inverters and liquid cooled energy storage system (ESS) solutions to the North American market during CLEANPOWER 2022 held from May 16 to 18.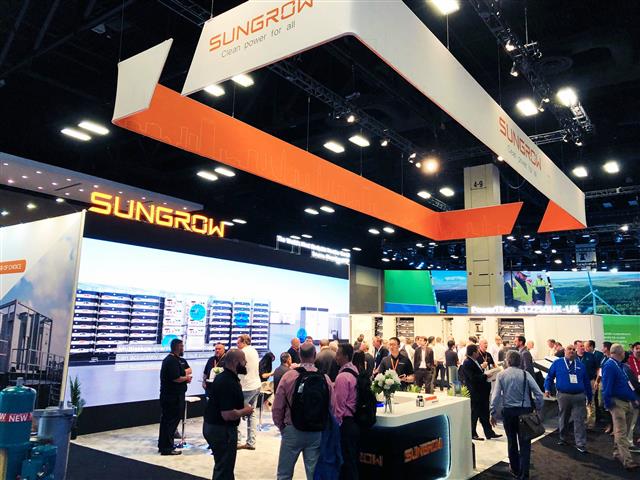 Sungrow Booth at CLEANPOWER 2022
The CLEANPOWER exhibition was hosted by the American Clean Power Association (ACP) with the theme of "Building the Clean Energy Economy".
Optimized for utility-scale solar plants, Sungrow introduced both central and string inverter portfolios, including its latest 1500V string inverter, its SG350HX and a 3.6 MW central turnkey station.
The SG350HX, PV Magazine's 2021 Inverter Category award winner features an unprecedented power output of 352 kW and perfectly matches large-format high-efficiency modules as well as tracking systems. In addition, it features a larger modular design, enabling lower LCOE for the power plant.
For commercial customers, Sungrow displayed its commercial inverters, the SG36CX-US and SG60CX-US to fit diverse installation situations.
The products enable a high DC/AC ratio of 1.5, leading to higher yields for a project. In addition, the inverters are equipped with online IV curve scan and diagnosis functions, tracking any issues in real-time and significantly reducing OPEX.
To continue to address the country's ambitions to source increasing shares of its electricity from renewable energy, energy storage is being touted as an ideal solution to improve the volatility of the grid.
Sungrow's liquid cooled ESS PowerTitan reduces capital and operating expenses due to its pre-assembled and easy installation design. Its effective cell working environment is able to substantially decrease capacity loss.
The new cluster controller can charge and discharge individual battery racks, improving the overall system performance by six percent.
Neil Bradshaw, Sungrow's Senior Technical Sales Manager, highlighted that energy storage safety is not a singular strategy, especially when projects are growing in scale and are increasingly paired with a variety of renewables.
"Safety is Sungrow's priority. We provide safer battery solutions with multiple safety features from cell level to module, rack, and system level. The new liquid cooled ESS PowerTitan can mitigate a number of the problems with the advanced liquid cooling thermal management and AI monitoring for battery cells, which optimizes safety as well as yields," he said.
Since establishing the USA branch in 2014, Sungrow has established a professional local team offering sales, technical support, and after-sale services.