On July 7th, nine leading solar module manufacturers joined forces to establish standardized dimensions for rectangular silicon wafer modules, with their consensus set at 2382mm x 1134mm. This collective initiative seeks to reduce competition in module size, optimize container space utilization, and promote collaboration within the solar industry.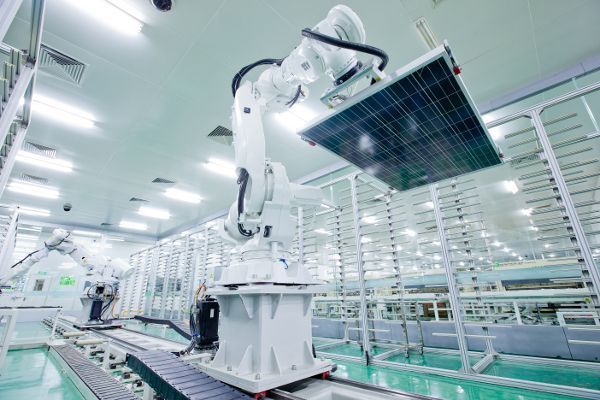 The nine companies participating in this initiative are LONGi Green Energy, Trina Solar, JA Solar, JinkoSolar, GCL System Integration (GCL SI), Tongwei Solar, Astronergy, Risen Energy, and DAS Solar.
The standardization of module sizes has long been a goal for industry leaders, though its implementation has posed challenges.
Silicon wafer production, a crucial precursor to modules, has seen the introduction of various sizes beyond the familiar 182mm and 210mm dimensions. Many top module manufacturers have introduced their own proprietary wafer sizes, with TCL Zhonghuan offering more than 300 different specifications to meet diverse downstream requirements.
The responsibility for achieving standardization has primarily fallen on module manufacturers.
During an industry discussion on PV module sizes in April of this year, representatives from the China Photovoltaic Industry Association (CPIA) emphasized that the absence of standardized module sizes could increase costs throughout the supply chain, affecting raw materials, manufacturing, PV station design, and introducing supply chain risks.
The need for standardized module sizes has become increasingly evident, spanning from upstream component supply to solar installation requirements.
---
---
Thus, the consensus was reached on the dimensions of rectangular silicon wafer modules, 2382mm x 1134mm, chosen for their exceptional container space utilization, boasting a utilization rate of 98.5%, making it the most space-efficient module size available.
This unified effort signals that the new generation of rectangular silicon wafers will enhance module power output, optimize container usage, and lower system costs.
Modules of this size typically generate around 600W of power, aligning well with current market demand for both centralized and commercial rooftop solar installations.
Industry experts emphasize that larger module sizes and higher power outputs drive industry progress significantly. Standardizing module sizes plays a pivotal role in improving overall production efficiency, reducing manufacturing costs, lowering the levelized cost of electricity (LCOE), and accelerating the global adoption of solar energy.
It's worth noting that before the official adoption of the 2382mm x 1134mm standard, most major module manufacturers had already begun producing modules with dimensions of 2384/2380mm x 1134mm.